Jeanne Maddox-Columna says she is not about to let some greedy retailers step on her "Waltons moment" this Thanksgiving.
The mother of six from Rancho Santa Margarita, Calif., and her four daughters have a family tradition of hitting the stores and searching out the "door-buster deals" in the dawn hours of Black Friday, a rush of retail therapy after the quiet of a Thanksgiving celebrated at home. But across the nation, big-box retailers such as Sears, Target and Kmart are seeking to get a jump on the Christmas season by opening their doors in the early evening to Thanksgiving Day shoppers in an effort dubbed by some as Gray Thursday.
The companies say they are simply accommodating the desires expressed by many of their patrons, but the "Black Friday creep" has generated surprising backlash from shoppers, store employees, investors and social critics who warn about the impact the move would have on the one American holiday that has largely resisted commercial onslaughts.
"It's one of the few days out of the year that I get to really enjoy being home with all of my kids, playing board games, watching football and, of course, eating," said Mrs. Maddox-Columna. "They are not spoiling my Waltons moment."
"It's greedy, disrespectful of family and not honoring the holiday," she said.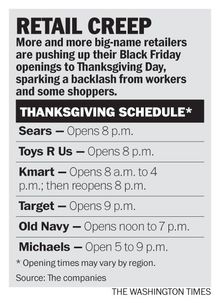 Although there are some local variations, Sears, which last year held out until 4 a.m. Friday, will be opening most of its stores on Thanksgiving Day at 8 p.m., as will Toys R Us. Target, which opened at midnight Friday a year ago, has moved up its opening time to 9 p.m. Kmart, now a division of Sears, plans to be open from 8 a.m. to 4 p.m. Thursday, then reopen at 8 p.m. for the kickoff of its Black Friday. Altogether, at least 20 leading retail chains say they will open for at least part of Thanksgiving Day.
Target worker Casey St. Clair sent a letter to CEO Gregg Steinhafel asking him to stop the company's Thanksgiving opening plan, and then took her gripe to the Internet.
Ms. St. Clair, a six-year part-time Target worker in California, started an online petition at Change.org seeking to pressure the company. As of late last week, more than 220,000 people had signed the plea.
Her online effort directed at Target struck a nerve. Since she posted the petition Friday, 40 other online petitions have been directed at stores such as Sears, Kohl's and Wal-Mart, a consumer backlash that some say is just the beginning.
"We would be better off as a people if all that nonsense just stopped," said Ruth Baxter, a middle school teacher from Friendswood, Texas, who laments the commercialization of the holiday.
Tipping point
Eager to lock in some early profits on the crucial part of the calendar, retailers have been moving up opening times steadily on Black Friday, from 8 a.m. to 4 a.m. to midnight in recent years. Ron Magliocco, the global business director for shopper marketing at the advertising giant JWT, said the earlier shopping times took off a few years back, "but the tipping point came about two years ago."
Mr. Magliocco said he understood the retailers' need to jump-start the holiday season given the tough economy of the past few years, but added that he was personally saddened to see the creep.
"I fear this stretching of Black Friday into Thursday is going to become broader," he said. "There's a point when things get a little bit too far and, in my opinion as a marketer and a human, that they are diluting the holiday."
The backlash hasn't been just emotional. John Harrington, president of a socially conscious investment firm in Napa, Calif., wrote directly to Target's Mr. Steinhafel last week to protest the Thanksgiving opening. He pointedly noted that his clients own more than 16,600 shares of the Minneapolis-based retailer.