U.S. combat troops are gone from Iraq, but for some of the Marines who lived through it, there's one more fight to win: making sure one of the fallen, Sgt. Rafael Peralta, is awarded the Medal of Honor.
Eight years after Peralta smothered a live grenade with his body in a firefight at a house in Fallujah, and four years after the Defense Department rejected a petition to award him the military's top honor, the decision is once again back before the defense secretary, and Peralta's backers said they expect a new decision by month's end.
"It's been a long process, but I'm confident that the secretary will make the right call and award Sgt. Peralta the Medal of Honor. It's what he deserves," said Rep. Duncan Hunter, a California Republican who as a Marine officer completed tours in Iraq and Afghanistan and who has been an evangelist for Peralta's case.
Peralta's combat comrades from that Nov. 15, 2004, firefight, when he took the point as they tried to clear a house of insurgents, say there is no question he deserves the Medal of Honor, given what happened.
As they entered one room, they encountered insurgents lying in wait who opened fire. In the firefight, Peralta was shot in the head and fell, even as one of the insurgents tossed a grenade. Seven witnesses say Peralta, lying on the ground, scooped the grenade underneath himself, absorbing the blast and saving the lives of the men with him.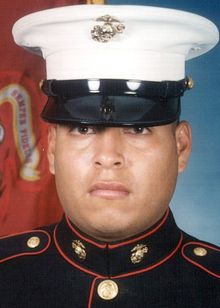 "Peralta took his arm out and swept it underneath his body," Robert Reynolds, who was a lance corporal in the platoon that day with Peralta, told The Washington Times. "If he didn't sweep it underneath his body, I would be dead because I was five feet from him."
It turns out that testimonial is critical, because it matters what was happening five feet from Peralta.
The Pentagon's initial review of the incident said that based on autopsy photos, X-rays and the condition of his body armor, the grenade detonated near Peralta's left side at about knee level, rather than underneath him — which is where it should have been had he swept it with his arm.
Further, the review said the gunshot wound to Peralta's head, from friendly fire, may have killed him instantly, and probably left him blind, which would have meant he couldn't have scooped the grenade toward himself.
"There is no way to reconcile differences in forensic evidence and conflicting testimony of Marines involved," the report said, but it concluded that the forensic evidence created enough "margin of doubt" that the medal could not be issued.
Based on that report, then-Defense Secretary Robert M. Gates denied the Marine Corps' petition for the Medal of Honor, and instead awarded Peralta the Navy Cross.
Steve Sebby, who was a combat photographer following Peralta's unit that day, said the Navy Cross doesn't make sense here.
"If he didn't do any of that stuff, like the forensic evidence says, then why would he rate that medal? It's either the Medal of Honor or nothing. That's what stands out in this case," Mr. Sebby said. "In wars past, the amount of statements that were made by the Marines — that would have flown, that would have gotten the Medal of Honor back in World War II, World War I. You've got a bunch of honest Marines recognizing heroism, that would have been enough."
Indeed, the citation for the Navy Cross affirms that Peralta "reached out and pulled the grenade to his body, absorbing the brunt of the blast and shielding fellow Marines only feet away."
It has never been clear whether other issues caused Mr. Gates to issue the Navy Cross instead, though some of Peralta's supporters have suspected so.