GOMA, Democratic Republic of Congo — A rebel group created just seven months ago seized the strategic provincial capital of Goma, home to more than 1 million people in eastern Congo, and its international airport on Tuesday, officials and witnesses said, raising the specter of a regional war.
Explosions and machine-gun fire rocked the lakeside city as the M23 rebels pushed forward on two fronts: toward the city center and along the road that leads to Bukavu, another provincial capital that lies to the south.
Civilians ran down sidewalks looking for cover, and children shouted in alarm. A man clutched a thermos as he ran.
By early afternoon, the gunfire had stopped and M23 soldiers marched down the potholed main boulevards, unimpeded.
Their senior commanders, who the United Nations has accused of grave crimes, including recruiting child soldiers, summary executions and rape, paraded around the town in all-terrain vehicles, waving to the thousands of people who left their barricaded houses to see them.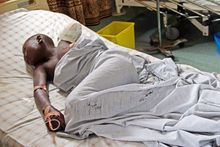 The U.N. peacekeepers, known by their acronym MONUSCO, were not helping the government forces during Tuesday's battle because they do not have a mandate to engage the rebels, said Congolese military spokesman Olivier Hamuli, who expressed frustration over the lack of action by the peacekeepers.
"MONUSCO is keeping its defensive positions. They do not have the mandate to fight the M23. Unfortunately, the M23 did not obey the MONUSCO warnings and went past their positions [at the airport]. We ask that the MONUSCO do more," he said.
The rebels are believed to be backed by neighboring Rwanda, which is accused of equipping them with sophisticated arms, including night-vision goggles and 120 mm mortars.
Evidence is mounting of the involvement by the neighboring country and on Friday, the U.N. Group of Experts is expected to release its final report, detailing the role Rwanda, and to a lesser extent Uganda, played in the recruitment, financing and arming of the rebel movement.
Congolese government spokesman Lambert Mende said that Rwandan soldiers had crossed into Goma, hiking over footpaths across a volcano that looms between the two countries.
"Goma is in the process of being occupied by Rwanda," said Mr. Mende, speaking from Congo's distant capital of Kinshasa. "We have people who saw the Rwandan army traverse our frontier at the Nyamuragira volcano.
"They have occupied the airport and they are shooting inside the town. Our army is trying to riposte but this poses an enormous problem for them — this is an urban center where hundreds of thousands of people live," he said.
A Congolese colonel, who was at the front line in Goma before the city fell, said that the soldiers he saw were Rwandan.
Neither his claim nor Mr. Mende's could be independently verified.
On Monday, U.N. Secretary-General Ban Ki-Moon telephoned Ugandan President Yoweri Museveni asking him to intervene, and Mr. Museveni phoned the M23 rebels to call for calm.