When D.C. Council Chairman Phil Mendelson got up Tuesday to leave a meeting on campaign finance reform with city Attorney General Irvin B. Nathan, colleagues at the conference table joked he was running out to raise money before the proposed legislation kicks in.
The joke suggested the urgency with which officials in the nation's capital are grappling with the best way to limit outsized influence by power brokers after questionable donations and the use of loopholes to stretch corporate dollars undermined faith in the city's ability to patrol political contributions.
But it isn't proving to be easy.
In crafting a comprehensive bill, city lawmakers said they must not encumber candidates and contributors with unrealistic rules or run afoul of a 2010 Supreme Court decision that said the First Amendment prohibits restrictions on independent political spending by corporations.
"We need to have a law that is easy to comply with and that minimizes the burden on the campaign," Mr. Mendelson said at the council work session.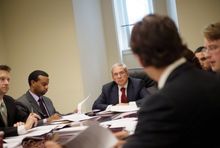 Campaign finance is a slippery and evolving topic for jurisdictions across the country, with the justices' mandate in Citizens United v. the Federal Election Commission adding a layer of complexity. From Alaska to Florida, legislatures are mulling a patchwork of bills that govern a range of campaign issues, from adhering to the high court's decision to policing campaign materials and fundraisers, according to the National Conference of State Legislatures.
Iowa, for example, is considering a ban on political robocalls during nighttime hours, and Massachusetts alone is mulling six reform bills, the conference's data shows.
In-house efforts to clean up city hall in the District come at the end of a year that saw two sitting council members resign and plead guilty to felonies in unrelated cases. And as part of a an ongoing probe, federal prosecutors obtained a trio of guilty pleas from aides who covered up furtive payoffs or handled unreported funds during Mayor Vincent C. Gray's 2010 campaign.
Several of those same incidents prompted the council to pass a comprehensive ethics bill before the close of last year. Now, members are trying to pass campaign finance reforms before patience runs out with the current system, and they're placing an emphasis on disclosure of corporate ties and new contribution limits with some suggesting publicly financed elections might be the solution.
Council member Muriel Bowser, Ward 4 Democrat and chairman of the Committee on Government Operations, called in Mr. Nathan on Tuesday to answer questions about the mayor's proposal to overhaul campaign finance rules in the District. The session revealed the intricacy of enforcing reasonable new rules. Among the quandaries the council must resolve before passing a bill is how it will communicate legal changes to contributors — notably corporate owners and lobbyists, who might not be up front about their motives for giving — and set limitations that don't just compel sneaky operatives to find ways around them.
"Influence is inherent to politics," Mr. Mendelson told Mr. Nathan, his colleagues and staff. "People want influence, and we can't eliminate it."
Mr. Mendelson, a Democrat, introduced the mayor's proposals in late September through legislation. Among its key reforms, the bill would require a corporation that contributes to a candidate to identify all of its subsidiaries, affiliates and controlling shareholders. Contributions from a business would count against the amount that is personally donated by the business owner, so the person could not circumvent caps on donations through multiple, unrelated limited liability corporations.
The bill also prohibits lobbyists from bundling contributions on behalf of a candidate. It calls for money-order contributions to no longer exceed $25 and mandates that candidates must certify their committees have made every effort to comply with the law.
In crafting the reforms, Mr. Nathan said his office took a look at best practices in other states and cities, including New York City and Philadelphia.
Council member Michael A. Brown, at-large independent, cited New York' methods in a bill he introduced last month to study public financing for city campaigns. On Tuesday, Mr. Mendelson suggested public financing might be the best route to curing pay-to-play politics in the District.