Lindsay Lohan arrived an hour late to the red carpet to celebrate the premiere of "Liz & Dick," but basked in the media frenzy — saying it felt good to have the focus on her work as an actress.
"It feels great to be on a red carpet for working hard. It feels good," Miss Lohan said.
Miss Lohan went for an old-Hollywood glamour look in a slinky ivory slip dress, her long hair wavy and parted on the side with ruby red lips. She plays screen icon Elizabeth Taylor in the made-for-TV film about her romance with Richard Burton that airs on Lifetime at 9 p.m. Sunday.
"I wasn't going to let them make the movie without me, first of all," Miss Lohan joked. "I harassed [executive producer] Larry Thompson."
Top choices for the role were Miss Lohan and Megan Fox, and Mr. Thompson said the choice became obvious after his meeting with Miss Lohan.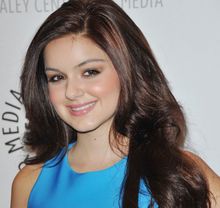 "Well, Lindsay Lohan wanted it. That was really the big difference," Mr. Thompson said. "She evidenced in her words and looking at me in the eyes that she needed it; she could relate to Elizabeth Taylor."
Miss Lohan said she felt similarities with Taylor: "She grew up with her mom mostly and so have I and also living your life in the public, I think that's the main one."
Miss Lohan has made headlines for problems with cocaine, alcohol and driving that landed her in a Los Angeles-area jail for about two weeks in 2010, and a shoplifting charge that put her under house arrest.
Mr. Thompson acknowledged that "there were days, as reported, that making the right decision was easier than living with the right decision. But it was the right decision nonetheless." He added that in her heyday, Taylor was "a handful, too."
'Modern Family' actress to remain in sister's care
A judge determined Tuesday that actress Ariel Winter's mother should not regain custody of the "Modern Family" star and that the 14-year-old should remain in her sister's care for the next several weeks.
Superior Court Judge Michael Levanas issued the ruling after considering a report by child protective investigators that was critical of Ariel's mother, Chrisoula Workman.
The report found that there was evidence of emotional abuse toward Ariel, Judge Levanas said, and the agency planned to step in and take action if Ariel did not remain under a guardianship.
The ruling was issued more than six weeks after Mrs. Workman was temporarily stripped of custody amid allegations that she had been physically and emotionally abusive to Ariel. Judge Levanas said the investigators' report found that claims of physical abuse were inconclusive, but an attorney for Ariel's sister said they could be proved in a subsequent report.
The judge set a Dec. 12 trial date to determine whether Ariel should be placed under a permanent guardianship. Ariel has been under the care of her sister, Shanelle Gray, since early October.