"It's all about swinging together guys, pass that rhythm back," says Olympic rower Sam Stitt into his megaphone as he puts Georgetown's varsity lightweight crew through a late fall workout. "Real clean here, let's make this work."
It's about 6 p.m., and the McLean native is on the Potomac, just west of the Key Bridge, and the clouds have turned pink as the sun sets on the Virginia side of the river. Light reflects off the brick buildings on Georgetown's campus, giving them a warm, amber glow. Stitt, all 6-foot-6 of him, balances his large frame in his launch, a small two-person motorboat, as he zigs between a pair of eight-man boats, soothing and cajoling his rowers with his comments.
"Watch out for this party boat as you turn around," he warns, waving back to the happy-hour crowd on a boat that's creating a bit of a stir in the river's calm water.
Stitt and Giuseppe Lanzone — crew teammates at McLean High School more than a decade ago — are back in the D.C. area, a departure from where they were at this time last year when they were roommates at the Olympic Training Center near San Diego, trying to make the team for London. They've just finished up their first fall coaching the lightweight crew teams at Georgetown.
They each made the 2008 U.S. Olympic team and headed into the most recent Olympic cycle as one of the top rowers in his specialty in the U.S. They were legitimate contenders to make the London Games — Stitt as a sculler (two oars at a time) in the two- or four-man boat, and Lanzone as a sweep (one oar at a time) in the eight-man boat.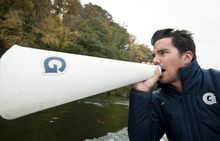 Stitt, who just turned 31, pushed all spring but just missed qualifying his two-man boat for the games with teammate Warren Anderson at a "last-chance" regatta in Switzerland in May. They were each folded back into contention for a spot on the men's quad but ultimately were not selected. Lanzone, 30, made the Olympic team, but also had to deal with disappointment over the summer. His boat couldn't overcome a slow start in the final and finished fourth, one-third of a second behind bronze medalists Great Britain.
"Getting cut from the Olympics, my head was spinning," said Stitt, who has been living with his mother in McLean the past few months. "Since sophomore year of high school, all I've been doing is rowing, so it was like, 'What do I do now?'"
Lanzone went through something similar.
"Being that close to a medal was disappointing, but we did what we could," said Lanzone, who was born in Peru but moved to McLean as a teenager. "When I came back from the Olympics, it was definitely a shock. You're coming from such a high, it's all in how you manage your little depression."
Working with young rowers has proved therapeutic and inspiring for the men as they embark on entering the "real world" for the first time at their somewhat advanced ages. The fall season is about development, according to head coach Tony Johnson, an Olympian in 1964 and 1968, so it's a good chance for the new coaches to get to know their athletes and refine their coaching styles ahead of the more intense spring season.
Chan Mahaney, the varsity lightweight captain, said having the two rowers come to coach at Georgetown was similar to having Michael Jordan show up to coach a basketball team.
"They're giving us the workouts that got them to the highest level," he said.
Staying close to the sport — running practices, organizing trips to events like the Head of the Charles in Boston, even breaking out power drills to adjust some of the boats' components — has been helpful for their re-entry. And each rower has a current interest outside of the sport — Stitt has a full-time job with Digital DNA, a Georgetown-based Web consulting firm, and Lanzone is helping his fiancee launch Pie Sisters, a Georgetown pie shop that opened this year.
"Coaching is great, and the younger guys, they're eager to learn. They're like sponges, sucking everything up," said Lanzone, who works with the freshman lightweight team and also is the program's recruiting coordinator.
Anderson said it's encouraging to see Stitt stay with the sport. It would have been easy to give it all up after such a big disappointment.