If you're reading this while in line at Best Buy, you've probably got the proper attitude for Black Friday, the day-after- Thanksgiving extravaganza (which now starts on Turkey Thursday in some places), when the "cool" gifts are on sale at blow-down-the-door prices.
But whether you're shopping today or next week, there are plenty of items worth getting for the techie on your gift list … or even for yourself.
Wii Wish U a Merry Christmas: One of the most popular items this year — despite what some critics call an incomplete presentation — is Nintendo's new Wii U, which, the firm notes, is its "first new home video-game system in six years."
Connectivity — to an external display such as your fl at-screen TV, and to the Internet and a variety of entertainment services — is the order of the day, according to the maker: "Wii U is an 'everyday' connected device — offering a combination of games, entertainment, online connectivity and social activity that will make people want to interact with it daily," Nintendo of America President Reggie Fils-Aime said in a statement.
You can choose between Wii U models, according to Nintendo. The $299.99 Wii U Basic Set features a white Wii U console with 8GB of internal storage, one white touch-screen GamePad controller, AC adapters for both the console and controller, a sensor bar and an HDMI cable to connect to the aforementioned fl at-screen TV. My recommendation: Spend the extra $50 and get the Wii U Deluxe Set, featuring black components. But the extra money buys the Nintendo Land game, increased internal storage totaling 32GB, a console stand, a GamePad stand and a GamePad charging cradle.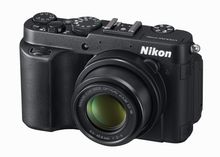 Now the downside: Promised services to bring Netfl ix and other video sources to the Wii U aren't here yet, but are expected in December. For the youngest Wii U devotees, that may not be much of an issue, but it is at least a speed bump on the way to videogame/TV/ media integration, Nintendo-wise.
Small wonder: Amazon.com's Kindle Fire HD gets my vote for small tablet of the year. The $199 Kindle Fire, with a 7-inch display, does a great job, in my opinion, of being an e-book reader extraordinaire, a very solid media player (with built-in, two-speaker, Dolby sound) and even a decent Web browser/ email reader. No, I wouldn't want to do office work on it or dash o! more than a very short message. But it's a lot better than many other similar-sized tablets out there.
If, for you, size matters more, spend an extra $100 for the 8.9-inch display-size model of the device. Want constant wireless connectivity? A $499, 8.9-inch Kindle Fire HD model includes a wireless data radio that lets you access (separately priced) AT&T wireless data services.
For me, the 7-inch model and Wi-Fi are more than enough to suit my purposes. A key factor in choosing Amazon's product is the ecosystem: millions and millions of books, songs, movies, TV shows, etc. at reasonable prices and accessible via iPhone or iPad or computer applications.
Still the one: Although I've yet to be won over by the iPad mini, chiefly because the lowest-cost model is $329, its big brother, the "new" iPad, with the phenomenal, high-resolution Retina Display, remains the one plus ultra of tablet computers. Yes, it starts at $499 for a 16GB, Wi-Fi only model, and yes, each "bump" in memory, 32 or 64GB, adds another $100, topping out at $699. Also true: Adding a wireless radio for AT&T or Verizon or Sprint data service means adding another $130 to each unit, making the top-top model $829.
Yes, all that's true. But when it comes to full-featured tablet computers, there is nothing on the market today offering the range of applications, accessories and performance that the iPad brings to the game. Proof: Microsoft's Surface tablet, just launched and seen by very few, earned Twitter plaudits from Oprah Winfrey, who wrote from her iPad.
Pocket camera wonders:You can get a lot of digital camera for $499, but you probably won't find a better compact camera at that price than the Nikon COOLPIX P-7700, which can shoot still images and 1080p HD video. According to the firm, the camera sports a "sharp 7.1x zoom NIKKOR ED glass lens with a maximum aperture of f/2 and a 12.2-megapixel CMOS sensor." Translation: You'll get a very good picture from a small package. I'm also impressed with the range of manual controls available — allowing users to adjust almost every aspect of the photograph — as well as the fold-out (or, articulating) LED viewing screen. That makes over-the-head shooting easier, such as from standing room at FedEx Field.
Fashionistas with a visual bent will go for Nikon's $179.95 COOLPIX S01, a camera so tiny you would hardly notice it's there. Colors for the camera body include red, white, silver and pink. Controlling the camera is done via a small touchscreen which doubles as a viewfinder. This tiny package produces rather exceptional images of 10.1-megapixel quality. It strikes me as a great party companion, except it can't serve as your designated driver for the evening.
Computer choices: Some of the best computer options this year may not be available on "Black Friday," since Apple's newest 27-inch iMac desktops won't hit stores until December. These machines, like their 21-inch siblings supposedly now available, can be ordered with a "Fusion Drive," combining 1 terabyte of hard disk storage with 128GB of solid-state (or flash memory) storage. The solid-state drive stores the operating system and most-used programs for quick starts; the hard drive holds the rest. The new iMacs, when available, will start at $1,299, but models with the Fusion Drive will cost more.
For Windows aficionados, the $999 ASUS All-in-One PC ET2300 is a stunner: a 23-inch, high-definition display that can fold flat to turn the device into a gigantic touch-screen tablet computer. The Windows 8 operating system, not loved by all but certainly touch-friendly, complements the machine's power and prowess, found in 6GB of RAM and a 1 TB hard drive, along with wireless display capability to stream images to compatible high-def TVs. Your greatest challenge might be finding one, however: Microsoft's online store lists the ET2300 as being out of stock. Start hunting.