Quarters
1 - Too much turkey pregame? Perhaps, as both teams stumbled out of the gate. The Redskins' opening possession went no-gain run, dropped pass, intentional grounding penalty. Eek. The Cowboys then hurt themselves with a third-down penalty that blunted a long drive and forced them to settle for a field goal. More bumbling followed, but maybe the biggest takeaway was the pressure Dallas put on Robert Griffin III, keeping him from looking like himself until an option run for a first down on the penultimate play of the quarter.
2 - So apparently the aforementioned run was indeed RG3 getting into his groove, as he and his mates proceeded to assemble their best stretch of play all season. On the third play of the quarter, Griffin hit Aldrick Robinson for a 68-yard score. That began a run of touchdowns on four consecutive possessions for the Redskins, capped by a Griffin bullet to Santana Moss with five seconds to play in the half. In the meantime, the defense forced a fumble and picked off Tony Romo to keep feeding RG3's machine. A remarkable display.
Play of the game: Let's go ahead and give some love to the kicker for a non-game-ending field goal. Kai Forbath's 48-yarder with 2:58 remaining — no gimme there — made it a two-possession game, and the Cowboys simply didn't have time for two scores after that.
3 - After a Cowboys field goal on the first drive out of halftime, both teams essentially held serve throughout the period — until the thunderbolt near the end. Romo's scrambling hookup with Dez Bryant that somehow resulted in an 85-yard touchdown reawakened the home crowd and made things a bit more interesting heading into the final stanza.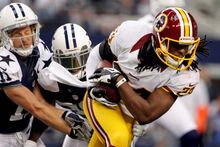 4 - Interesting indeed. Even after Griffin answered Romo with a TD toss on third-and-inches, the Cowboys kept rolling as the Redskins' secondary reverted to form and scored twice, plus a two-point conversion, to make it a 35-28 game with more than half the quarter remaining. Contributing to their cause was a rare bad play by Griffin, a what-was-he-thinking interception. But the Redskins finally sustained a drive, chewing up 5 minutes, 20 seconds to set up Kai Forbath's field goal and leave the Cowboys in an untenable situation. They opted for a field goal first, but couldn't recover the ensuing onside kick.