Offensive lineman Bennett Fulper watched senior classes at Maryland enter the final game without a postseason possibility to play for in 2009 and 2011.
Now, as he enters his finale with the Terrapins, it is his turn.
Unlike those other two teams, Maryland harbored at least faint bowl hopes almost to the final week of the season. Last week's 41-14 loss to Florida State ensured the Terps (4-7, 2-5 ACC) could not change their fate when they visit North Carolina (7-4, 4-3) on Saturday.
It doesn't mean the 2012 swan song is meaningless. Wide receiver Kevin Dorsey said it is a chance for any player to perfect his craft, and Fulper said there is little reason to dwell on the reality of another losing season setting in.
But it does prompt some reflection on the year that was — and could have been.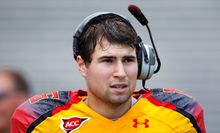 "Watching the bowl game possibility slip away, that was disappointing," Fulper said. "Once it's gone, it's gone. You can look back at tons of games. You can look back at the North Carolina State game, the Boston College game, all these games and say if we had a play here and a play there. As [offensive line] coach [Tom] Brattan says, each play is sacred. You never know what's going to be the play."
It is easier to identify them with the benefit of hindsight. The Terps have seven losses, and their season could have turned out far differently without any of these half-dozen moments.
C.J. Brown tears his ACL, Aug. 14. Any explanation of how Maryland ended up with a losing season begins with losing its starting quarterback during preseason camp. Brown made an awkward cut during a noncontact two-minute drill in the open field that evening and fell to the turf with a right knee injury.
It left the Terps without a quarterback option with college experience all season.
Bungled two-minute drill, Sept. 15. Maryland was nearing a chance to kick a game-tying field goal with a little more than a minute left when quarterback Perry Hills was brought down for a 3-yard loss to the Connecticut 35. About 25 seconds trickled off the clock for the discombobulated Terps, and coach Randy Edsall puzzlingly did not use a timeout. Three plays later, Maryland turned it over on downs.
Mountaineer scoop-and-score, Sept. 22. Maybe the Terps wouldn't have beaten West Virginia without the Mountaineers' 51-yard fumble recovery for a score in the first quarter of a 31-21 loss. But it was the sort of gift Maryland couldn't afford to provide — and it would continue to do so throughout the season.
Playing it safe against N.C. State, Oct. 20. Maryland needed only a yard on a fourth down from the N.C. State 47 with 2:26 to go to effectively clinch an 18-17 victory since the Wolfpack were out of timeouts. After a timeout of their own, the Terps punted into the end zone, and N.C. State drove for a go-ahead field goal with 32 seconds left.
Craddock off the left upright, Oct. 20. Even if playing it safe backfired, Maryland still could have upended N.C. State after freshman quarterback Caleb Rowe — playing for the first time — needed four plays to move the Terps into field goal range. However, up-and-down kicker Brad Craddock's 33-yard try hit the left upright and denied Maryland a 5-2 start.
Running out of quarterbacks, Oct. 27. Hills and wideout-turned-quarterback Devin Burns suffered season-ending injuries in the loss to N.C. State, but the crushing blow came when Rowe tore an ACL late in a 20-17 setback at Boston College. The Terps have since used true freshman linebacker Shawn Petty at quarterback with predictable results for their severely limited offense.
The schedule stiffened as well, with blowout losses to Clemson and Florida State the last two weeks. But it is telling that in two of three games with Petty at quarterback, the Terps have forced a turnover and scored a touchdown in the final minute.