The Rolling Stones are facing a fine that some estimate could reach $320,000 after the rock band played past a strict London noise curfew Sunday night.
The legendary band performed at London's O2 Arena to kick off its "50 and Counting" tour that celebrates its 50th anniversary. The 21/2-hour gig ended with "Jumpin' Jack Flash," with the Telegraph on Monday reporting that they had planned to end with "Satisfaction," but cut the classic due to the curfew.
On Tuesday, the Telegraph said the Stones were facing a fine for wrapping up the concert around 11 p.m.
The curfew calls for Sunday performances to end at 10:20 p.m., with time for a "quick" encore after that, effectively requiring musicians to leave the stage at 10:30 p.m.
The size of the fine wasn't immediately clear, but The Sun tabloid estimated it at $320,000.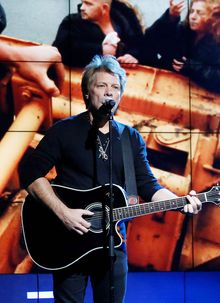 The band's agent, Bernard Doherty, told The Sun: "It means a big fine — but the guys just do their thing. There wasn't a janitor standing there, jangling his keys, saying. 'I want to go home.' "
According to reports, lead singer Mick Jagger said out loud on stage Sunday that his band members had better "get a move on" due to the noise curfew.
The estimated fine is, of course, much smaller than the short tour's projected revenue. It was expected to bring in $25 million before a fifth gig in Brooklyn was added to concerts in London and New Jersey.
The London curfew earlier this year made headlines when two other music legends ran afoul of it. Bruce Springsteen and Paul McCartney had their microphones cut off on stage in the British capital's Hyde Park after Mr. Springsteen had exceeded the curfew.
"When did England become a police state?" Springsteen guitarist Steven Van Zandt tweeted after the incident, and Mr. Springsteen made fun of the curfew during performances elsewhere in the days following the interruption.
Jon Bon Jovi, Grohl, Vedder join Sandy benefit show
Jon Bon Jovi, Dave Grohl and Eddie Vedder are adding to the star power at next month's Superstorm Sandy benefit concert at Madison Square Garden.
A news release said the three rock stars will join Bruce Springsteen & The E Street Band, Paul McCartney, Kanye West, Roger Waters, Alicia Keys, The Who, Billy Joel and others on Dec. 12 to raise money for the Robin Hood Relief Fund to benefit devastated areas of New York, New Jersey and Connecticut. Those areas were especially hard hit by Sandy earlier this month, killing dozens and causing billions of dollars in damage.
Tickets for the concert, dubbed "12-12-12," go on sale at noon Dec. 3.
Halle Berry's ex-boyfriend granted restraining order