Georgetown coach John Thompson III generally bristles when asked about his team running the Princeton offense, which features an array of precision passes, backdoor cuts and other off-ball movements that makes it difficult to defend.
Thompson doesn't like his teams to be pigeonholed as strictly Princeton-based, but this year, the Hoyas actually are playing like they're not wedded to the deceptive offense.
Sure, there are still the backcuts and passes from the top of the key by Hoyas centers, but increasingly Georgetown is finding room to run and taking advantage of it with a rangy roster filled with athletes comfortable with pushing the pace.
"Let's go," Hoyas guard Markel Starks said of the team's offensive mindset. "We've got some horses, so let's get out and run."
Now, before we get too carried away, the Hoyas aren't turning into the Loyola Marymount of the early 1990s, but they appear to be comfortable playing a more up-tempo style of basketball.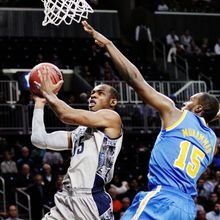 "Our team has guys that can make good decisions at a fast pace," Thompson said. "A lot of people want to talk, 'Let's run, let's run,' but sometimes you have people that make bad decisions at a fast pace. We have guys that can make good decisions quickly and people can fill different roles."
Georgetown (4-1) is averaging 68.6 possessions per game, a rise from last year's 65.6 possessions. And while those numbers can be attributed to several factors, the Hoyas have made an effort to attack the basket.
"It puts a lot of pressure on the other teams' guards to get back," sophomore center Mikael Hopkins said of the Hoyas' break.
With Starks leading the way, and versatile wingmen such as Greg Whittington and Otto Porter providing support, the Hoyas acknowledge this isn't always the standard, methodical Georgetown offense.
"I guess you could say it's different, but we have some athletes now," Starks said. "Not that we didn't have them before, but we have a team that likes to get out and run. We have a team that can stretch the floor. If we can score quick, we'll score quick. But at the same time, you still want to get good possessions."
Starks is one of four Hoyas with more than a dozen assists, lending credence to the fact that Georgetown is capable of giving the ball to nearly anyone to effectively run the break or the normal offense.
"We don't need to get it to the proverbial one man and have him bring it up," Thompson said. "We have different guys who can just get it and go."
And while Georgetown will never abandon the Princeton principles that have made it a successful program under Thompson, the up-tempo element adds another layer that opposing defenses must consider when scheming for the Hoyas.
"That's why you have to watch a lot of film," Starks said. "You have to read the defense. I don't think it will take that long [to get everyone on the same page]. The more and more we continue to get out and run, the more we'll start to be able to feel where each other likes to have the ball. But I think that's still a learning process."