PHILADELPHIA — Brye French and Bo Snelson represented Navy at Wednesday's Army-Navy media day at Lincoln Financial Field, one of the traditional duties of the Midshipmen's football captains.
Neither French nor Snelson was a formal captain this season, stripped of their titles after an undisclosed July incident.
And neither player wound up with a diminished role where it mattered the most: in the minds of their teammates and in the locker room.
"It was incident; it happened," French said. "I definitely was a little upset for a while, but the players and teammates were very supportive, and they came up to Bo and myself and said, 'You're still our captains.' That definitely helped out with the whole situation."
Navy's season arc featured early struggles, followed by a perfect October and solid November. The Midshipmen (7-4) will head to the Fight Hunger Bowl later next month, and can claim the Commander-in-Chief's Trophy for the first time in three years with a defeat of Army (2-9) on Dec. 8.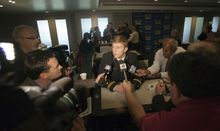 The same was true of French, a soft-spoken and level-headed linebacker from Alabama, and Snelson, the fiery slotback and the son of a Texas high school coach.
They were named captains before the start of spring practice, an unusually early time. Both stressed the importance of details for a program that saw its eight-year postseason streak come to an end after a series of close defeats last season.
Then came the stunner on the first day of practice: French and Snelson were no longer captains, a role that carried far greater significance and purpose at a service academy than at a civilian school. The nature of their violation was never revealed, and both players and coach Ken Niumatalolo declined to comment.
The issue probably didn't matter so much as dealing with the public scrutiny that accompanied it.
"They were both embarrassed," Niumatalolo said. "They were both like, 'I can't believe we did that.'"
While both eventually set about the business of guiding Navy on a turnaround season, there was some initial pain to deal with. In particular, there was the matter of understanding the punishment.
"The type of person I am, I'm a very emotional guy," Snelson said. "I like to take things to the point. I'm not necessarily a confrontational guy, but definitely a sit-down, hear things from the source and understand what's going on. At the beginning, there was a lot of confusion, and I think that's what I was most upset about."
Nonetheless, there still was an accountability factor, one omnipresent at the academy. For Niumatalolo, the decision ultimately delivered a pair of messages for the rest of his roster. One was it is possible to press forward, as French and Snelson did in remaining vital team leaders and spokesmen throughout the season.
The other, of equal importance, was to convey the value of choices and consequences.
"I made a poor decision, and I got punished for it," French said. "There's no point in being upset about it or trying to weasel out of it. I did something wrong, and I have to pay the price."