GRUNDY, Va. — If the sign on the building didn't say Wal-Mart, you might mistake it for Bloomingdale's.
The glass atrium, escalators from a multilevel parking deck and surrounding pedestrian mall seem strangely out of character for the world's largest retailer, as is the location in a new downtown anchored by the big-box giant.
Yes, that's right: There is a town in Virginia that bulldozed the remains of its decades-old downtown shopping district and put up a Wal-Mart — and it has proved to be a big hit in bringing people back to the town's long-struggling core. It even has sparked an unlikely holiday buying rush this year.
"We really had not had a Black Friday in Grundy," said Tim Potter, property manager and project coordinator for the Grundy Industrial Development Authority. "Back before the town was torn down and all you could literally on Black Friday stand in the middle of the road and you wouldn't see anybody, nobody shopping, nothing. That's not the case now."
What has happening in Grundy is being watched closely elsewhere. Cities and small towns across the country are fighting over various models for downtown redevelopment while trying to resist the allure of classic big-box stores that are seen as too impersonal or too suburban.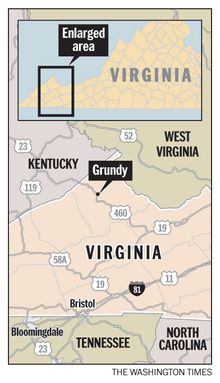 But officials in Grundy, a town of about 1,000 people in the remote mountains of far Southwest Virginia, say they never saw a conflict between downtown and the big box. Its bustling regional hub of decades past was destroyed in 1977 by a flood so devastating that when the business district was bulldozed decades later, some of the buildings still had alluvial mud inside them.
People didn't know it then in this coal-mining town nestled along the Levisa Fork River, but the flood cleared the way for a monumental experiment involving multiple levels of government, with possible lessons far beyond Grundy.
Back to life
The new Grundy, which has cost more than $220 million, had its genesis in the 1990s as agencies sought to address two federally mandated projects: flood-proofing in response to the 1977 disaster and construction of a highway as part of a regional road system to open the area to development.
Meanwhile, town leaders had begun to think about how to address a long-standing problem: an empty, flood-prone downtown that had shown no sign of coming back to life in the decades since the disaster.
In a long and complicated process helped along by Rep. Rick Boucher, a Democrat who represented the area for 28 years before losing his seat in 2010, the federal, state and local projects were brought together under one umbrella.
The result was a collaborative project that combined highway construction with a new flood wall. Buildings were razed, a levee system was constructed and a 13-acre site was blasted from the side of a mountain to make room for a new downtown.
The Grundy Industrial Development Authority worked out a financing package for the redevelopment project, based largely on the use of so-called new market tax credits.
"Grundy Town Center and the surrounding road and river improvement infrastructure provided a model for how cooperation of state and federal government can lay the foundation for private enterprise," shopping center developer Mark Podlin said.
Mr. Potter said the unprecedented partnership of federal, state, local, business and nonprofit forces helped cut the project cost in half.