✔ Pick of the Pack
Theater: 'Les Liaisons Dangereuses'
In 1782, Pierre Choderlos de Laclos wrote "Les Liaisons Dangereuses" ("Dangerous Liaisons"), a novel about revenge, sex and scandalous French aristocrats. It spawned numerous adaptations, including the 1988 film starring John Malkovich, Glenn Close and Michelle Pfeiffer, based on a 1985 script by Christopher Hampton that had successful theatrical runs worldwide. After playing the manipulative Vicomte de Valmont more than two decades ago, Mr. Malkovich has revisited Mr. Hampton's script as director of a modernized stage production. Mr. Malkovich's "Les Liaisons Dangereuses" debuted at the Theatre de l'Atelier in Paris earlier this year and makes its U.S. premiere this week thanks to the Shakespeare Theatre Co. In French with English surtitles, Mr. Malkovich's production is true to the original novel but adds modern touches and a young, diverse cast. Thursday's opening performance will be followed by a champagne soiree with the cast at Paul Bakery & Cafe, another recent French import to Washington, with dangerously seductive pastries.
Through Dec. 9 at the Lansburgh Theatre, 450 Seventh St. NW
Phone: 202/547-1222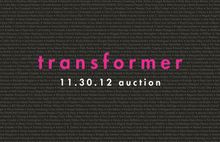 Web: www.shakespearetheatre.org
Art: Transformer Silent Auction & Benefit Party
Since 2002, the Washington-based Transformer has been dedicated to supporting emerging artists, helping them with everything from learning about new, sustainable mediums to introducing them to the press and public. Transformer's annual silent auction and benefit, now in its ninth year, helps these artists sell their work to local collectors while raising funds for the nonprofit's work. While enjoying DJs Yellow Fever and refreshments from local restaurants, patrons (and would-be patrons) of the arts can browse works from more than 160 up-and-coming artists from around the world. Whether you're a seasoned collector looking for the next big thing, or simply looking to fill your bare apartment walls, there's likely something for your taste and budget, judging by the expansive auction catalog. This year, the benefit is co-chaired by Ambassador Ramon Gil-Casares of Spain, and accordingly, the auction will feature a number of works by emerging Spanish artists.
Friday at the Corcoran Gallery of Art, 500 17th St. NW
Phone: 202/483-1102
For children: 'Oh! Hanukkah!'
Hanukkah doesn't officially begin until sundown on Dec. 8, but there's no reason why you can't get into the spirit of the Festival of Lights a week early. On Saturday morning, Nell and David Greenfieldboyce will present a mixed-media performance combining music, comedy and puppetry to tell the story of Hanukkah, when the Jews rose up against their oppressors and regained the Holy Temple in Jerusalem in the second century B.C. When the Jewish priests went to relight the temple's menorah, the story goes, there was only enough oil for one night — but miraculously, the oil lasted for eight, leading to the lighting of the menorah for eight nights during the annual holiday. The performance also will include tales of Jewish life in the old country. Complimentary tickets are required for the two morning performances and will be distributed 30 minutes beforehand on a first-come, first-served basis.
Saturday at the National Theatre, 1321 Pennsylvania Ave. NW
Phone: 202/783-3372