Loyola coach Jimmy Patsos finds himself in a position increasingly common among his peers this fall.
The Greyhounds remain a member of the Metro Atlantic Athletic Conference, their home for more than 20 years. They'll head to the Patriot League next year, an independent move amid massive shuffling throughout the Division I landscape.
And yet Patsos is enjoying one element not everyone will receive the opportunity to savor: a pleasant curtain call in a season of transition.
"I expect a gift every place we go," Patsos joked. "I want a rocking chair, buffalo wing sauce. I want a Chipper Jones farewell tour. I want gifts along the way. I look forward to participating in the ceremonies."
Patsos is in a position to offer some levity. The Greyhounds, last year's NCAA tournament automatic qualifier from the MAAC, return four starters. They also will be eligible for this year's MAAC tournament — a luxury fellow soon-to-be-Patriot League member Boston University did not receive on the way out of the America East.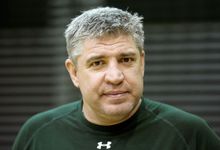 A similar rule rendered Georgia State and Old Dominion ineligible for the Colonial Athletic Association crown on their way to the Sun Belt and Conference USA, respectively. It created some uneasiness entering the season, and Georgia State coach Ron Hunter acknowledged at the CAA's recent media day he wasn't sure what sort of reception he would receive.
Hunter, not a man of subtlety, left little doubt about his displeasure for a decision to keep his team out of the contention for an automatic bid.
"I have in my home, I have the schools that said we couldn't play in the conference tournament, and in my locker room I have the same thing," Hunter said. "My wife thinks I'm nuts, but I wake up every day and look at those schools that said, 'You know what, your kids can't play in the conference tournament.' I know how that vote went. I want to use that."
Someone who didn't want any part of such an unpleasant arrangement was Virginia Commonwealth coach Shaka Smart, whose Rams reached the Final Four in 2011 and won the CAA tournament last year. Interest from the Atlantic 10 escalated in the spring, and VCU ultimately accepted an invitation to swap leagues.
The Rams also made the move with only a couple of months' lead time, ensuring there would be no season of lingering bad feelings before a move to a new conference.
"That was the No. 1 no-no," Smart said. "I didn't want to have to go in the locker room and say 'Darius [Theus], David [Hinton] and Troy [Daniels] — our three seniors — sorry guys, but your senior year you're not going to have a chance to play in the conference tournament.' We all know how hard it is to get an at-large bid if you're not coming out of one of the BCS conferences. It was huge to be able to make the move right away."
Butler coach Brad Stevens, whose Bulldogs are the other addition to the Atlantic 10, didn't wish to endure a lame-duck season in the Horizon League. If Butler was to move into a far-flung yet still East Coast-centric league, Stevens wanted to do so immediately.
But he also recalled his own experiences playing at Division III DePauw, which switched conferences entering his senior year.
"We went to new places. We saw new things," Stevens said. "It enhanced my experience greatly. I have a couple seniors now who I want to live that. I didn't want them to play a lame-duck year and not get a chance to experience what all these other guys will then for the next however many years are going to get the chance to."
While the A-10 added a pair of recent Final Four teams, it also will lose Charlotte (Conference USA) and Temple (Big East) after this season in football-driven moves. Charlotte coach Alan Major believes "it's like crossing a bridge" and has not experienced any acrimony entering his last A-10 season.