ANALYSIS/OPINION:
Since Mike Shanahan rolled into town in his chariot in 2010, he's been trying to turn the Washington Redskins into the best team in the NFC East, if not the best in the whole NFL. He's certainly being paid like a coach who's capable of performing that task — because he pulled it off, of course, once before in Denver.
But the Redskins reminded us Sunday that, in Year 3 of their "Great Awakening" under Shanahan, they're a lot closer to being No. 32 than they are to being No. 1. The Carolina team, after all, that came to FedEx Field was in total disarray. It was 1-6, its general manager had been fired and just about everybody in the organization was Officially on Notice. Only one club in the league, the 1-7 Chiefs, had a worse record than it did.
But that didn't keep the Panthers from beating the Redskins 21-13 in a game Shanahan had designated a "must-win" for his team. If this is how his players play when they've dropped two in a row — and are trying to avoid a three-game death spiral heading into the bye week — you have to wonder if anyone's listening to him anymore.
It's not like this is an isolated incident, either. Far from it. Last December, you may recall, the Redskins lost to the 2-12 Minnesota Vikings at FedEx — yet another indication that Shanny's work-in-progress was much closer to the bottom than the top.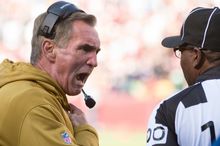 Let's be honest: Defeats like these suck the hope out of a fan base. I mean, this is the Any Given Sunday League, sure, but when the Redskins can't separate themselves from the dregs of the NFL, it just chips away at any trust their followers might have in the club's management, any confidence they might have in the direction of the franchise.
So when Shanahan said the team had reached the point, at 3-6, where "you're playing to see who's going to be on your football team," where you "evaluate players" to "see who can fight through" bad times, it was hard not to think: That's all well and good, but who's evaluating the evaluators? They're the ones — from Bruce Allen on down — who assembled this roster, who presided over this latest Lowlight in Redskins History.
In a game that, in the coach's estimation, they had to have to keep their shrinking playoff chances alive, the Redskins gave up touchdown drives of 98 and 91 yards (the first after being stuffed at the Carolina goal line), were burned for another long completion (82 yards, to set up the clinching score), converted only 3 of 15 third downs, committed 13 penalties and couldn't capitalize on a 14-yard Panthers punt.
Or as Trent Williams put it: "We helped them beat us."
Does that sound like a club that was, to borrow a phrase, fired up and ready to go? Or does that sound like a club that, after a killer loss to the New York Giants and a hammering by the Pittsburgh Steelers, has pretty much shot its wad?
"I'm tired of being subpar in this league," Lorenzo Alexander said. "A lot of guys are. We haven't put two wins together since early last season [and they've done it only twice in the Shanny Era]." Still, he added, "I'd like to finish the season on a good note."
Too bad the Redskins didn't begin that process Sunday afternoon. It would have been a great time for it.
Some people want to make a big deal of the fact that the Redskins came up small on a day they inducted 10 more legends into their Hall of Fame. Puh-leeze. If the Redskins need the memory of Sean Taylor to inspire them, if they aren't inspired enough by their last-place lot in life, then they're beyond help.
And in light of recent events, that's definitely a question worth considering: Can these Redskins be saved, by Robert Griffin III or anybody else? They have seven games left, five against division foes they've struggled against and another against a Baltimore Ravens team that lives to beat them. There also are signs the league is starting to adjust to the Three-Card Monte game Griffin is running. Familiarity breeds better containment, at the very least. And the Panthers probably had a better handle on the Washington offense than most because they see a quarterback like RG3 — the multitalented Cam Newton — every day in practice. Not only did they sack Robert four times, one less than his career high, they limited him 53 rushing yards in 11 carries (with a long of 9).
Worst of all for the Redskins, they don't even benefit from losses like this by securing a higher draft pick. Next year's No. 1 already belongs to the St. Louis Rams — as partial payment for Griffin.