ATLANTIC CITY, N.J. — Many gamblers never leave the multibillion-dollar row of oceanfront casinos towering over the world famous boardwalk here, but if they walked across Pacific Avenue, they would find a church that feeds homeless people.
They would see block after block of cash for gold shops. And if they walked further toward the bay on certain streets, past tiny convenience stores and strip clubs, they would find neighborhoods where poverty runs high with problems unimaginable in resort towns along much of New Jersey's storm-battered coast.
While there are exceptions, including an upscale outlet mall near the main corridor into town, the contrast between life on opposite sides of Atlantic City's Pacific Avenue has always been stark — but perhaps never so stark as on Friday, when New Jersey Republican Gov. Chris Christie ordered the city and casinos reopened.
Nearly a week after Superstorm Sandy forced the evacuation of barrier island towns all along New Jersey's coast, gamblers trickled back into town alongside people who live in neighborhoods the tourists rarely see. In flood-ravaged pockets of the city, people spent the weekend sifting through dark and moldy living rooms and kitchens.
"We've got any machine we want," said retiree Bill Dineen, 69, playing the slots in a mostly empty Trump Taj Mahal on Saturday. He and his wife drove from Edison, a township in northern New Jersey.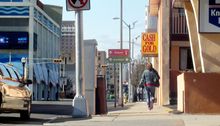 "Everything looked fine coming in," he said.
Off the main corridors into town, things were not fine. Soggy mattresses, backpacks, CDs, couches, VHS tapes, toys, bottles, pillows, vacuum cleaners, car parts, roofing shingles, umbrellas, rugs, siding, garbage and food wrappers lay piled up in yards and on streets for blocks in some neighborhoods Saturday afternoon.
On the 300 block of north Connecticut Avenue, Antoinette Hooper, 77, and her son, Stephen Hunter, 48, returned to their small row home Saturday morning. It was dank and dark and the floors were soaked. A brown line on the top of a now dingy, soggy floral-patterned couch showed the high water mark during the flood.
"The whole downstairs gone," Mr. Hunter said. "All gone."
The drywall rippled in sections and their newly tiled kitchen floor was muddy and buckled. There were trophies and framed black-and-white family photos, reminders of better days, lining the walls mostly untouched.
Ms. Hooper had spent much of the day on the phone calling a government hot line to ask what to do, but she said the person on the other end kept telling her she had the wrong Social Security number, even as she read the information directly from the card in her hand.
"My mother's 77 years old, why is she going to lie?" Mr. Hunter said.
The mother and son, of course, had heard that the casinos were reopening. They heard officials say it was important for Atlantic City to get working again, that the storm actually could have been worse.
By then, public attention had shifted to the devastation in places up north like Staten Island. But here on Connecticut Avenue, the feeling was that things still were pretty bad, that it didn't matter much either way whether the casinos opened.
"The casinos in this town are what sells," Ms. Hooper said, "but we don't get any benefit from it."