A judge Thursday ordered Chris Brown to remain on supervised probation and make another court appearance after he completes an overseas tour.
Superior Court Judge Patricia Schnegg did not address questions raised at a previous hearing about whether the R&B singer had completed the terms of his community labor sentence.
A prosecutor said a report filed for Thursday's hearing did not add additional details about Mr. Brown's service as previously requested by the court. Instead, it included the same spreadsheet of Mr. Brown's hours that Judge Schnegg called "somewhat cryptic" at a September hearing.
Mr. Brown remains on supervised probation for felony assault for an attack on Rihanna in 2009.
He is scheduled to begin a tour that spans several countries in Europe and South Africa on Nov. 14.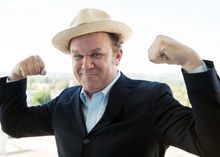 Mr. Brown "appears to be making a sincere effort to comply with terms and conditions of probation," a probation officer wrote in a report prepared for Thursday's hearing. The report recommended that Mr. Brown remain on probation under the same conditions he has abided by since pleading guilty to the attack on the eve of the Grammy Awards.
Mr. Brown appeared at the hearing along with his mother and attorney Mark Geragos. He did not speak during the proceedings, and when he attempted to at one point during discussions of his schedule, Mr. Geragos joked, "I don't dance, you don't talk."
Mr. Brown is scheduled to return to court Jan. 17.
Reilly liked getting animated for 'Wreck-It Ralph'
It wasn't easy for John C. Reilly to become "Wreck-It Ralph."
The 47-year-old Oscar nominee (for 2002's "Chicago") initially didn't want the job, reticent about the scope of the project and the process of making animated movies.
"I'd heard that making animated movies for actors was often kind of this isolated, strange experience," Mr. Reilly told The Associated Press. "You go in and do your lines, and then you react to recorded lines from other people, and you're never in the same room at the same time and maybe you meet them at the premiere, the other actors."
He'd been told that animated films were made by committee, rather than the director's vision guiding the project. And the previous animated roles he was offered never provided a complete script.
"I was like, that doesn't sound fun at all," he said. "That just sounds kind of like just an empty suit kind of job."
But that wasn't his experience on "Wreck-It Ralph." Mr. Reilly attended story meetings, met with animators to develop the look of his character and worked side by side with co-stars Jack McBrayer, Jane Lynch and Sarah Silverman.