Stephen Lumpkins was willing to surrender a lot, and do it quickly, to chase a longtime dream.
At 6-foot-8, he looked every bit the part of a college basketball player. He just happened to want to pitch.
So when the Kansas City Royals took him in the 13th round of the 2011 draft, he signed just a few days later. There would be no senior season playing basketball at American, much to the chagrin of coach Jeff Jones, who unexpectedly lost a second-team all-conference player in early June.
Baseball, as it so often does, rewarded Lumpkins' eagerness with a plethora of difficulty. He went to Arizona, played Rookie League ball and posted a 7.02 earned run average in 2011. The Royals tweaked his mechanics and he came back and walked 11 in 3 innings this year.
Baseball didn't work out. Basketball, however, still was a possibility.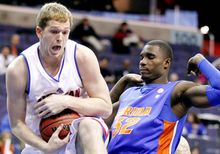 "Honestly, it was miserable," Lumpkins said. "That was something that was hard for me to deal with, going out there and experiencing failure. In my life and in my basketball career at American, I didn't fail a lot. I think going forward to now, it's helped me now that I'm back the second time."
Lumpkins boomeranging back to American is a substantial addition for the Eagles (20-12 last season), who finished third in the Patriot League behind a pair of teams (Lehigh and Bucknell) who return senior stars.
There was the matter of actually asking to come back. Lumpkins always planned to finish his degree and knew he would return to American for at least a semester. If he was back in the District already, why not play basketball, too?
Jones was in the hospital recuperating from hip surgery when he learned of Lumpkins' desire to return. Assistant Kieran Donohue texted Jones' wife to see if she would broach the subject ("I think they wanted to catch me while I was still drugged up," Jones joked), which in turn led to some conversations Lumpkins acknowledged weren't entirely comfortable.
"I think he understood that I had some issues with how the decision had been handled, and we talked about that, and I think he understood my reasoning and my displeasure with how it was handled and basically acknowledged it could have been handled better or differently," Jones said.
The sentiment was expected. Lumpkins' departure was not a drawn-out process and caught the Eagles' staff off guard.
At the same time, his discussions with Jones were important, and to Lumpkins the talks improved his relationship with his coach beyond what it was earlier in his career.
"I feel like a lot of the stuff I went through in baseball prepared me to deal with those conversations," Lumpkins said. "I grew up a lot from when I left then until now. I knew I was going to have to deal with that conversation. I was the one who left. It's not like they kicked me off the team or anything."
Lumpkins' maturity is a welcome addition for the Eagles. But so is his talent, which is not a minor detail for a team that lost its top two scorers to graduation and its No. 4 scorer (Blake Jolivette) to a season-ending ACL tear over the summer.
Lumpkins averaged 13.5 points and 8.2 rebounds as a junior in 2010-11.