It's tough to imagine Chris Pontius lagging behind. But sometimes, the man just can't keep up.
On the field, of course, he's in his comfort zone. There, the D.C. United attacker is about as swift as they come with the ball at his feet, a barraging forward force with a nasty cutback move and quite the finishing touch.
For all the pace Pontius can offer on the dribble, though, it doesn't do him much good when it comes to staying up to speed with life in the District. A Southern California boy born and raised, Pontius quickly cultivated his scouting report on the people of Washington upon arriving in early 2009.
"Oh, very Type A personality," he said with a laugh. "Always on the move."
So what about Pontius? He's definitely Type B. Nice and slow. Well, until you get him on the pitch. Then matters change. Then he can be ruthless — to the tune of 12 goals in 2012.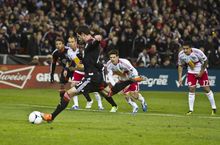 On Wednesday, Pontius will take to the field for the biggest contest of his professional career. After a 1-1 draw in Game 1 against the New York Red Bulls, United will travel to Harrison, N.J., for the do-or-die second leg of their two-match, total-goals Eastern Conference semifinal.
En route to this stage, Pontius in recent weeks has been asked to step up on the leadership front. Once Dwayne De Rosario went down with a sprained knee ligament in mid-September, it was the 25-year-old who took on the captain's armband.
While it may not be the most natural role for a young, easygoing figure such as Pontius, he's found a way to put his own spin on the task. Considering he helped steer United through a 5-0-2 run to clinch the team's first playoff berth since 2007, it's hard to argue with the results.
"Chris is not a big rah-rah guy, a guy who is going to make speeches or anything like that," club president Kevin Payne said. "But he's more assertive in the locker room, and certainly on the field he wants to be the guy that people look to."
'Take life in stride'
Pontius always has been pragmatic. Playing high school soccer in Orange County, Calif., his goal was simply to make it at the college level. Looking any further would be too much, he figured. Once he got a scholarship to play at UC Santa Barbara, he just wanted to lock down a starting spot. No need to get ahead of himself.
It wasn't until his junior season, in fact, that he thought pro soccer was in the cards. By the time his four years at UCSB were over, he was a blue-chip MLS prospect. In January 2009, United took Pontius with the seventh pick in the MLS SuperDraft, sending the West Coaster to the hustle and bustle of the nation's capital.
"It was culture shock, definitely for me, those first couple months, leaving your friends and your family that you haven't left for your whole life," Pontius recalled. "I just think people's attitudes here are very different than mine. I'm very laid back, and I just try to take life in stride. I don't take myself too seriously."
But he does take wins and losses seriously. When Pontius joined United, defeat was an unfamiliar concept.
That changed quickly. After qualifying for the NCAA tournament every year at UCSB, winning a national title in 2006, Pontius saw United barely miss the playoffs his rookie season. In Year 2, D.C. was the worst team in MLS. And his third campaign ended without a trip to the postseason as well.