RICHMOND — Former Virginia Gov. Tim Kaine won one of the most expensive and consequential U.S. Senate races in the country Tuesday, delivering Republican George Allen a second consecutive razor-thin loss and ensuring that the purple state again will have two Democrat-blue senators come January.
With 99 percent of precincts reporting, Mr. Kaine held a 52 percent to 48 percent lead over Mr. Allen, according to unofficial results. The two were competing for the seat of retiring Sen. Jim Webb, a Democrat.
Mr. Allen, speaking to supporters in Richmond, conceded the race just before 11 p.m.
"I've called Tim and congratulated him," Mr. Allen said. "We still remain friends personally, and that's an important thing. I've congratulated him and pledged my support as he takes on the task of [representing the people of Virginia]."
Results were delayed after long lines kept some polling places open well after their scheduled closing time of 7 p.m.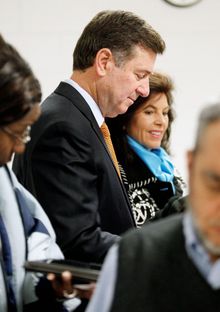 Between money doled out by the two candidates' campaigns and party and independent groups, more than $82 million was spent on the race, according to the Center for Responsive Politics, making it the most expensive Senate race in the country. More than $52 million — also No. 1 in the country — of that spending came from outside groups, many of which do not have to disclose their donors. In terms of money spent by the campaigns, the Senate race between incumbent Republican Scott P. Brown and Democrat Elizabeth Warren in Massachusetts is tops, at about $70.5 million.
Mr. Kaine spent much of his campaign painting Mr. Allen as an obstructionist, and arguing that he would be willing to work with the president or any of his Senate colleagues, no matter the party, while reminding voters of Mr. Allen's time in the U.S. Senate from 2001 to 2007, during which the national debt crept steadily higher as Congress passed two rounds of tax cuts and the country became mired in wars in Afghanistan and Iraq.
Mr. Allen, meanwhile, relentlessly attacked Mr. Kaine for supporting a deal to raise the nation's debt ceiling last summer that ultimately led to the specter of $500 billion in looming defense cuts, though other Republicans, including House Majority Leader Eric Cantor of Virginia, supported the deal at the time as an imperfect solution to a pressing problem.
Mr. Webb said this week that when he made the decision to leave after one term, one of the first people he called was Mr. Kaine — whom he lobbied to run as his replacement. Mr. Kaine also spoke about the seat with President Obama, who hand-picked Mr. Kaine as the Democratic National Committee chairman in 2008 after the then-governor helped deliver the state's 13 electoral votes in 2008.
For Mr. Allen, the loss means a second straight gut-wrenching defeat after falling to Mr. Webb by fewer than 10,000 votes in 2006. Mr. Allen had vaulted to the forefront of potential 2008 Republican presidential candidates in the wake of winning the 2006 Conservative Political Action Conference straw poll. He has said that the 2006 loss humbled him, and over the past year he has run a disciplined, energetic campaign, bringing back Mike Thomas, who led his successful 1993 gubernatorial bid, as campaign manager and Dan Allen (no relation), a longtime ally, as a top strategist.
Republican vice presidential nominee Paul Ryan made a last-second swoop into battleground Virginia just hours before the polls closed Tuesday, underscoring the tightness and the importance of the state both in the Electoral College math for President Obama and Mitt Romney and as of one of a handful of Senate races on which control of the upper chamber hinges.
With the presidential contest in the state expected to be a nail-biter, Mr. Kaine and Mr. Allen had been hunting feverishly for potential ticket-splitters. Although they were few and far between Tuesday, election officials projected that turnout would exceed the 2008 total of 75 percent statewide.
At Lyon Park Community House in Arlington, the line to get into the small white home stretched nearly to the end of the block. Sporting a puffy jacket, knit hat and a Romney-Ryan sticker, 38-year-old John McIntire said he had been on-site since 5:45 a.m. and planned to stay until the polling center closed.
"I wasn't expecting this long a line," he said as he looked down the string of people winding out of the community house. "People weren't as excited as in 2008."
Mr. McIntire said he doesn't always vote along party lines, especially in the local and state elections, but he planned on voting for Mr. Romney, and for Mr. Allen for Senate.