Upstart challenger David Grosso, a relatively unknown former D.C. Council staffer who started campaigning a year ago, unseated incumbent Michael A. Brown on Tuesday for an at-large seat in the only significant upset in the District's elections.
The results came after the Brown campaign was undone in recent months by reports ranging from criticism of the council member's personal finances to his poor driving record. A failed attempt to introduce Internet gambling in the District and the reported theft of more than $100,000 from his campaign didn't help matters, either.
Mr. Brown, an independent elected in 2008, conceded the race Tuesday night and thanked his supporters for staying with him through a "soap opera campaign."
"We had a lot to overcome and we did everything we could to try to do that," he said. "We just couldn't get it done. We came up short."
With 96 percent of precincts reporting, Mr. Grosso led Mr. Brown by more than 17,000 votes, or 21 percent to 15 percent of ballots cast.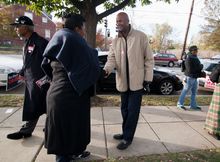 Mr. Grosso, an independent, celebrated his victory at a raucous upstairs party at Chez Billy in the Petworth neighborhood of Northwest.
"It's a new day for D.C.," he said, adding that his priorities include ethics and campaign finance reform.
Vincent B. Orange, the Democratic nominee, coasted to victory for the second at-large seat with 37 percent of the city's vote.
For Ward 7 member of the council, incumbent Yvette M. Alexander, a Democrat, knocked down a spirited challenge by "civil rights" Republican Ron Moten with 87 percent of the vote. Mr. Moten had avoided a crowded Democratic primary by opting to run as a Republican, yet faced an overwhelmingly Democratic ward in the general election.
Citywide, voters flooded the polls on Tuesday to support President Obama and to weigh in on local contests in the heavily Democratic city, prompting officials to predict that Election Day voters and nearly 60,000 early ballots would combine to exceed the city's turnout in the historic 2008 election.
A steady flow of residents lined up at the city's 143 precincts beginning at 7 a.m., although crowds thinned out by midday before picking up again for the post-work crowd. Based on morning observations and early-voting tallies, the D.C. Board of Elections predicted that citywide turnout would eclipse the roughly 266,000 voters who cast ballots when Mr. Obama won his first term. The city has been growing at a fast pace, and D.C. voter registration has increased by more than 10 percent since four years ago.
But high turnout was accompanied by problems and complaints. The elections board reported that an undetermined number of poll workers did not show up for their duties, prompting them to call upon a pool of 70 reserves to fill in for them. Many voters waited for more than an hour and had to cast paper ballots whether they wanted to or not, since there were few of electronic machines at each polling site.
"A lot of the machines at the precincts weren't used (in 2008)," BOE spokeswoman Agnes Moss said, noting the board will adjust based on 2012 trends. "You can only really compare a presidential election to another presidential election.
She said that out of 280 machines owned by the board, 165 machines were used on Tuesday, 103 were used for early voting and 12 were used for training.
Council Chairman Phil Mendelson, a Democrat, trumped over challenger Calvin Gurley by a nearly 3-to-1 vote margin in a special election to complete the term of former Chairman Kwame R. Brown, who resigned in June amid scandal instead of serving through 2014. Council members had chosen Mr. Mendelson to lead the council until voters could decide whether to reaffirm his position on Tuesday.