BOSTON — Slamming the Republican Party establishment for tapping Mitt Romney as its standard-bearer, the co-founder of the nation's largest tea party group said Wednesday the lessons learned from the 2012 presidential election will strengthen the grass-roots movement, making it an even more important part of the GOP's future.
Jenny Beth Martin, of the Tea Party Patriots, said Mr. Romney's loss to President Obama Tuesday serves as a stark reminder that "conservative" candidates lose if they do not fully embrace the limited government principles that the grass-roots movement embodies.
"He was a weak, moderate, hand-picked candidate by the establishment, the Beltway elites — and they have picked candidates repeatedly for years," Ms. Martin said. "It does not work and it is time to find someone the next time who embraces our values."
Tea party crash?
Democrats, meanwhile, seized on Tuesday's outcome as proof the tea party movement has crashed to earth two years after fueling a Republican takeover of the House in an election result Mr. Obama described as a "shellacking."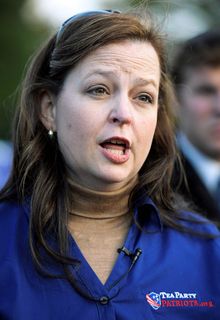 "After 2010, Republicans thought they put Democrats on defense forever, but tonight the tea party wave was reversed," said Rep. Steve Israel of New York, chairman of the Democratic Congressional Campaign Committee. "Despite Republicans' predictions that they would significantly expand their majority after the wave that swept them in power, like Democrats did in 2008, we didn't let it happen. We took the fight to Republicans all across the country and won at least 25 Republican or new seats — beating the expectations."
Tea party-backed candidates struggled in several races across the country Tuesday, from the high-profile flops of Senate candidates Richard Mourdock in Indiana and W. Todd Akin in Missouri, to the razor-thin reprieve of Michele Bachmann, founder of the House's Tea Party Caucus, who narrowly won re-election in Minnesota and the surprising stumble of Florida Rep. Allen B. West, the first-term firebrand who says he will seek a recount after coming up 2,456 votes behind Florida Democrat Patrick Murphy, his Democratic challenger.
Other tea party casualties included Rep. Joe Walsh of Illinois and Rep. Nan Hayworth of New York.
But tea party defenders point to the dramatic, grass-roots fueled win in Texas of Sen.-elect Ted Cruz, one of the movement's most ardent and articulate advocates of limited government and fiscal restraint.
The problem at the presidential level, they say, is that voters could not see enough of a distinction between the two candidates. So voters went with what they knew.
Ms. Martin also said the Tea Party Patriots — which, she said, has swelled from 22 members in 2009 to more than 40 million supporters today — was at a competitive disadvantage in the presidential race because the Obama and Romney camps have been preparing for this election longer than the tea party has been around.
"It is not the death of the tea party," she said. "We were promoting our values of fiscal responsibility, constitutionally limited government and free markets against two campaigns that have been campaigning for at least the past six years. We are new, we are not going away and we will continue to grow and get better."
Changing of the guard
Richard Viguerie, chairman of ConservativeHQ.com and a tea party supporter, delivered a similar message Wednesday at the National Press Club in Washington, D.C., telling reporters that Mr. Romney's loss will spell the end of big government Republicanism.
He said Republican National Committee Chairman Reince Priebus, Sen. Minority Leader Mitch McConnell of Kentucky and House Speaker John A. Boehner of Ohio "should be replaced with leaders more in tune with the conservative base of the Republican Party."