BARCELONA — They occupy banks, stage sit-ins at government buildings and roar their rage at their own government and at German Chancellor Angela Merkel.
They also use canes and crutches to get to these so-called "actions" — because their average age is 70.
These Spanish grannies and grandpas, part of a protest movement for seniors called the "yayoflautas," say you are never too old for a revolution. The change they want is for Spain to slow down its tough budget cuts pushed by Germany and instead focus on growth and job creation to solve their country's crippling debt crisis.
"We don't want our children and grandchildren to inherit a society worse than the one we've lived in," said Paco Gonzalez, 60, a member of the group in Barcelona.
Another protester, Nicolasa Fernandez, 74, has to feed three generations of her family on a pension of $776 a month.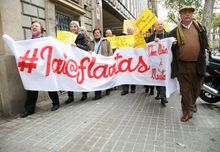 Her two daughters and son are unemployed, and the government subsidies are not enough to meet the mortgage and pay for utilities and food.
"I go to my younger daughter's home every other day to fill up her fridge because my biggest worry is my 2-year-old grandson," said Mrs. Fernandez, who lives in a working-class suburb of Barcelona.
"But there will be a day when I won't be able to help because my savings are limited."
What they need, she said, is a country that takes steps to create jobs. So she has been taking to the streets and participating in actions for months to push for change, she said.
Unlike the younger protest movement, these demonstrators don't occupy city squares to spend hours discussing world events.
Pranks and placards
They prefer pranks, as they like to call them. Their methods are always the same. Dressed in normal clothes, they meet in front of a targeted building, move inside quickly, don flashy yellow vests and pull out their placards and megaphones.
They then sit down and refuse to leave until they get a chance to express their complaints directly to a representative of the organization, government ministry or financial institution they are protesting that day.
Since their founding in October 2011, they have invaded the offices of Spanish banks and occupied several government offices, a public bus, Spain's No. 1 radio station and a major bond-rating agency.
They also organized a coordinated invasion of Deutsche Bank offices in eight Spanish cities, while the German Consulate in Barcelona was filled with grandfathers raging against the austerity push of the German chancellor, whose country is the primary backer of the bailouts of other members of the European Union.