Adele has confirmed she has co-written and performed the theme to the upcoming James Bond movie, "Skyfall."
The singer posted a picture on her Twitter feed Monday of what appears to be the sheet music cover page for the song, credited to Adele — as A. Adkins — and Paul Hepworth, who co-wrote her hit "Rolling in the Deep."
Rumors have swirled for months that the Grammy-winning British singer had recorded the theme, but there has been no official announcement from producers.
The film, Daniel Craig's third Bond adventure, opens in Britain on Oct. 26 and in the U.S. on Nov. 9. The cast includes Javier Bardem, Albert Finney, Ralph Fiennes and Naomie Harris.
The theme to the last Bond film, "Quantum of Solace," was performed by Jack White and Alicia Keys.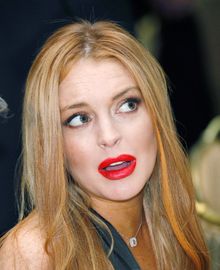 Police void man's arrest after dispute with Lohan
A 25-year-old man initially arrested Sunday on an assault charge after Lindsay Lohan claimed he grabbed her in her New York hotel room in an argument over cellphone images was freed hours later and his arrest voided when the charge could not be substantiated, law enforcement officials said.
Instead, Christian LaBella of Valley Village, Calif., and Miss Lohan filed harassment complaints with police against each other after they were interviewed by police about their run-in, law enforcement officials said.
Afterward, Lohan publicist Steve Honig expressed outrage that police did not charge Mr. LaBella.
"We think it's both distressing and outrageous," he said in a telephone interview. "Lindsay was assaulted and there needs to be a consequence for that."
Mr. LaBella could not be reached for comment.
Mr. LaBella was arrested about 6 a.m. after a 911 call came from the swank W Hotel in Manhattan's Union Square where Miss Lohan apparently pulled the fire alarm, the two officials said. The officials were not authorized to speak publicly and spoke to the Associated Press on the condition of anonymity.
A former congressional aide, Mr. LaBella was arrested on a misdemeanor assault charge but released later Sunday. The charge could not be substantiated so the arrest will be voided, the officials said.
The paperwork was being completed on cross-harassment complaints, which are considered a violation, and no other legal action would be taken, the officials said.
Miss Lohan and Mr. LaBella met hours earlier at a nightclub, though it was unclear whether they previously knew each other, the officials said. They went back to her room, when she noticed the cellphone photos of her on his phone and grabbed the device, the officials said.