The Washington Nationals stood on the field Wednesday afternoon soaking in just what their season had done to the city of Washington, D.C.
From their spots along the first base line, they gazed out at a record crowd of red-towel-waving fans showering them with appreciation for helping them fall in love with a team and a sport over the course of eight months.
But in the clubhouse, after they'd given those same fans little to cheer about once the pregame ceremonies were complete, there was only silence. Their 8-0 loss to St. Louis in Game 3 of the National League Division Series, giving the Cardinals a 2-1 lead in a race to three victories, warranted nothing else.
All of the excitement they'd packed into a captivating year, all of the joy they'd experienced by becoming the best team in baseball, was replaced with one stark reality: The Nationals' season could end Thursday.
"We don't have a choice now," said first baseman Adam LaRoche. "We put ourselves in this spot. Not something we planned on, but it is what it is."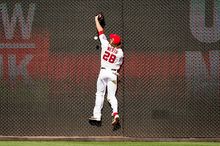 The Nationals, a 98-win team boasting a top pitching staff, exceptional defense and a formidable offense, will play one game for their lives Thursday. A win would push them to Game 5, at home, with left-hander Gio Gonzalez on the mound. A loss would make the satisfaction of that regular-season success melt away in an instant.
And if that happens, it'll be because that regular-season team has shown up only in glimpses in this series.
Instead, it has been a ballclub with mediocre-at-best starting pitching, a rocky bullpen, an inconsistent offense and an inability to beat back the seemingly indefatigable Cardinals.
In the series' first three games, the Nationals' starting pitchers have combined to throw 13 innings. They've allowed 11 earned runs off 16 hits and eight walks and struck out just 11. As a whole, the Nationals' pitching staff has a 7.23 ERA in the series.
That has been compounded by an offense that has left 29 runners on base and was 0 for 8 with runners in scoring position Wednesday. In the first playoff game within District limits in 79 years, the Nationals threatened often. They put a runner in scoring position in four of the first five innings, and they had at least one hit in every frame Chris Carpenter pitched. They left all of them on base.
They insisted the blowout nature of the past two games, and the fact they've been outscored 22-7 in the series, was of no consequence. "It doesn't matter how you lose 'em, you know?" right fielder Jayson Werth said. But they know they need to reverse some of their disturbing recent trends if they have designs on their season living another day.
"We need to go out from the first pitch and be aggressive," LaRoche said. "We know they are. We know what their hitters are doing. They're up there trying to drive something. It's not a bunt and hit-and-run team. Those guys are trying to do some damage. We need to fire back and do the same thing.
"This time of year, I can't say it's always the best team that moves on. It's a lot of times the hottest."
Much of the responsibility for the Nationals to move on will lie with left-hander Ross Detwiler, the 26-year-old who was lit up by these same Cardinals only 11 days ago.