ANKARA, Turkey (AP) — A plane intercepted by Turkish fighter jets on its way from Moscow to Damascus, Syria, was carrying equipment and ammunition destined for the Syrian Defense Ministry, Turkish Prime Minister Recep Tayyip Erdogan said Thursday.
Mr. Erdogan's comments followed a fierce denial by Syria that anything illegal was aboard the Airbus A320 that was forced by Turkey to land in Ankara late Wednesday. Syria, whose relations with neighboring Turkey have plummeted over the Syrian war, branded it an act of piracy.
Earlier in the day, Turkish officials rejected claims by Syrian ally Russia that Turkey had endangered the lives of Russian citizens on board the aircraft.
"These were equipment and ammunitions that were being sent from a Russian agency … to the Syrian Defense Ministry," Mr. Erdogan told reporters in Ankara.
"Their examination is continuing, and the necessary (action) will follow," he added.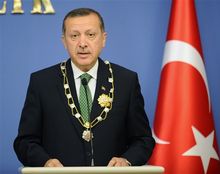 Yeni Safak, a newspaper close to the Turkish government, reported Thursday there were 10 containers aboard the plane, the contents of which included radio receivers, antennas and equipment "thought to be missile parts."
Turkish state-run television TRT also reported that the plane was carrying military communications equipment. Neither TRT nor the newspaper cited sources for their claims.
A Western diplomat in Ankara told The Associated Press that Turkish authorities had found "military equipment" on board the plane, but he did not elaborate. The diplomat spoke on condition of anonymity because he was not authorized to speak about sensitive issues.
The plane was allowed to continue to Damascus after several hours, without the cargo.
"As you know, defense industry equipment or weapons, ammunitions and such equipment cannot be carried on passenger planes," Mr. Erdogan said. "It is against international rules for such things to pass through our airspace."
Mr. Erdogan refused to say how — or from whom — Turkey had learned that the twice-weekly scheduled flight would be used to transport military gear to Syria.
"As you will appreciate, those who gave the tip, which establishments, these things cannot be disclosed," he said.
The United States said it backed Turkey's decision to intercept the plane.
"Any transfer of any military equipment to the Syrian regime at this time is very concerning, and we look forward to hearing more from the Turkish side when they get to the bottom of what they found," said State Department spokeswoman Victoria Nuland.
She declined to comment on Turkish reports that the intelligence on the plane's cargo had come from the United States.