In the end, there was nothing but silence to greet them.
The blue carpet meant to soak up champagne was still there, but the furniture that'd been moved out of the center of the clubhouse was put back. The plastic sheets hung to protect the contents of lockers from getting soaked were rolled up or torn off. The only sound was the slapping of hands on backs as they gave one another hugs, both conciliatory and goodbye.
The haste with which the Washington Nationals' clubhouse went from celebratory to somber at the close of Game 5 of the National League Division Series was evident. The haste with which their season ended was more difficult to process.
They stood on the precipice. One out away. One strike away. One iota away from a ticket into the National League Championship Series.
They led the St. Louis Cardinals by six, then by five, then three. As Drew Storen took the mound in the ninth inning, their lead was two. When he descended it, the Nationals were three outs from the 9-7 loss they tried to absorb inside the bowels of the stadium as Friday turned to Saturday.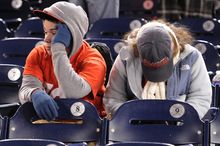 "Seven, eight months worth of hard work goes away in one inning like that," said first baseman Adam LaRoche, his tone soft and his eyes searching. "I don't know what to tell you. It's frustrating. This is going to sting. It's going to sting until next year."
Fans, 45,966 of them, bundled in winter coats and hats flung red towels around above their heads and showered their team with cheers as the ninth inning began. The clock struck midnight on the scoreboard as Storen watched Carlos Beltran's leadoff double bang off the right center field wall. He stood on third through two excruciating outs, and two excruciating walks.
The Cardinals boast perhaps one of the best lineups in baseball through their first six batters. But in a series in which the Nationals played little like the team they were over a 98-win season, it was St. Louis' No. 7 and No. 8 hitters who did the most damage. It was Daniel Descalso who was 6-for-19 with two home runs and Pete Kozma who reached base nine times in 21 plate appearances. Friday night Descalso tied the game. Kozma won it.
Game 1 of the National League Championship Series will begin Sunday night at AT&T Park in San Francisco. The Nationals won't be a part of it.
"There's always going to be a winner and a loser," said third baseman Ryan Zimmerman. "Unfortunately, everyone can't win and it's always tough for the team that loses. But we have nothing to be ashamed of."
There was nothing they could point to as the moment it all went wrong. Storen's pitches were close, but not strikes. Their offense was big, but not enough.
"In this game, there's nothing that's an accident," said shortstop Ian Desmond, Descalso's hit just out of his diving reach. "There's a plan for everything. This is the way I guess it was supposed to end up. … It happened for a reason. Learn from it. Let's use it as a tool to get better."
Washington, D.C.'s re-introduction to playoff baseball wasn't easy. The gut-wrenching torture that comes with each pitch carrying so much weight took its toll on the region's nerves the past few nights. But nothing came close to the heartbreak that the silent stadium emoted as they went from the brink of delirium to the depths of disdain.
The Nationals kept their park rocking until deep into the night on Thursday, Jayson Werth's walk-off home run giving them at least one more day and the swagger to believe it would almost certainly be more. The Giants were a match-up they liked. A match-up they craved. If they could get there, they felt, they might just get all the way there.
The offense that had been maligned and missing for much of the series tried to send them there early. They put up six runs on Cardinals right-hander Adam Wainwright in the first 2 1/3 innings. Werth doubled. Bryce Harper tripled and homered. Zimmerman doubled and homered. Michael Morse homered.