Advocates told a D.C. Council committee on Monday that legislation to reserve about 10 percent of the city's on-street parking spots for disabled motorists — yet require them to pay — appeared to be a revenue grab that overburdens a population with limited transit options.
Witnesses at a hearing on the proposal to introduce "red-top" meters, a program designed to comply with the Americans with Disabilities Act that is based on best-practices in other cities, also worried the program does not do enough to reduce fraud among able-bodied motorists with invalid handicapped placards.
The bill by council member Mary M. Cheh, Ward 3 Democrat, does not specify the number of spaces that would be set aside for exclusive use by disabled motorists. But the proposal outlined by the D.C. Department of Transportation would mark about 1,800 of the city's 17,000 metered spaces as red-top metered spots.
Officials readily acknowledge that the demand for on-street parking already exceeds supply, but feel the percentage is a fair and just way to provide accessibility to the disabled.
The legislation also attempts to correct the missteps of a similar red-top program that had to be stopped midstream in March through council action. It replaces the "blue-top" meter system that offered free parking to the disabled, but which some able-bodied motorists abused by using fake handicapped placards.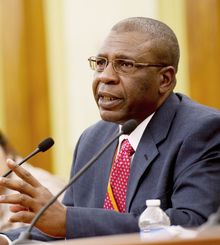 Officials said forcing the disabled population to pay is a good way to crack down on the number of non-disabled motorists who parked in spots with false placards because the spaces were free. Under the red-top program, a nominal pay-by-phone fee is waived, and disabled motorists can park in marked spaces for up to four hours.
DDOT Director Terry Bellamy was unable to say how significantly the program would cut down on fraud, since some able-bodied motorists might still take red-top spots because they are available and cheaper than garage spaces. Officials did, however, feel the reduction would be significant.
As anticipated, the measure is causing controversy among members of the disabled population and the able-bodied population alike. But only three public witnesses arrived to testify before the Committee on the Environment, Public Works and Transportation, of which Ms. Cheh is chairwoman. The lawmaker said she was surprised by the "lack of participation" considering the large number of organizations that provided input during work sessions that led up to the bill's drafting.
Cora Rubenstein, a 75-year-old from Forest Hills in Ward 3, said city officials should try to root out parking fraud first, and then see if they need to charge the disabled population for parking. Able-bodied residents have arguably cheaper options, such as Metro, that are not always accessible to the disabled, she said.
"I don't understand why the D.C. government wants to increase its revenue — which is how it looks to me — on the backs of the disabled," she said. "And regardless of what problem exists, I think that this legislation uses the wrong approach."
Ms. Rubenstein; her partner, Larry Werner; and a third public witness, Kelly Buckland, of the National Council on Independent Living, each testified they felt left out of the decision-making process that led to the bill.
After the hearing, Ms. Cheh said she had built a consensus for her proposal among major interest groups and the D.C. Office of Disability Rights.
"I don't really think this [proposal] is perfect, but we got to a spot we could all agree on," she said.
Nonetheless, she acknowledged there were "a couple of issues that continue to swirl."
"Some people who are not disabled think that we're being too generous," Ms. Cheh said. "I don't think so, but it wouldn't be accurate to say there isn't that sentiment."