You can't always get what you want — but if your desire is to attend a Rolling Stones concert, this might be your lucky day.
The legendary band said Monday that it would return to the stage this year with four concerts in Britain and the United States. The shows are scheduled for Nov. 25 and 29 at London's O2 Arena, and Dec. 13 and 15 at the Prudential Center in Newark, N.J.
The shows mark the first time in five years that the Stones have performed live, with Mick Jagger, Keith Richards, Charlie Watts and Ronnie Wood all coming together once more. The band said it was the "crowning glory" of celebrations marking the 50th anniversary of its first gig.
The Stones have sold more than 200 million records, with hits including "(I Can't Get No) Satisfaction," "Street Fighting Man" and "You Can't Always Get What You Want."
In recent years, much of the band's income has come from touring. Its last global tour, "A Bigger Bang," earned more than $500 million from 2005 to 2007.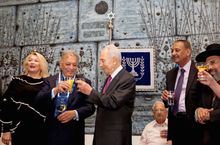 Their legions of fans will hear era-defining tracks such as "Gimme Shelter," "Jumping Jack Flash," "Tumbling Dice," "It's Only Rock and Roll," plus a few surprises and other classics from "GRRR!," the multiformat album coming out in November.
"GRRR!" is a greatest-hits collection that includes two new songs — "Doom and Gloom" and "One More Shot," recorded recently in Paris — the first new recordings since the 2005 album "A Bigger Bang."
A wider tour is not planned, though the Dec. 15 performance will be available on pay-per-view.
All ticketing information is available at www.rollingstones.com.
Maestro Zubin Mehta awarded Israeli medal of honor
International maestro Zubin Mehta was presented with a medal of honor by Israel's Shimon Peres on Monday for his decades of work with the Israel Philharmonic, dubbing him the "conductor of our hearts."
"Israel used to be a drama and you made us into a dramatic symphony without compromising one for the other," the Israeli president told the Mumbai-born conductor as he awarded him the Presidential Medal of Distinction.
"You made our people feel at ease, feel together through the language of music. You and the orchestra carried a flag of friendship across the world and represented our country in an unbelievable manner," Mr. Peres said in remarks communicated by his office.
Mr. Mehta became the orchestra's music adviser in 1969 and musical director in 1977. In 1981, he was appointed music director for life.
"To be given a hug by President Peres is already my award. There is no greater friend of India in Israel than Shimon Peres," Mr. Mehta said. "What Israel has given me in the last 50 years, I can only give back by having my musicians night after night play their hearts out all over the world."