City lawmakers on Tuesday answered a mounting chorus of motorists who say the District is burdening them with pricey traffic-camera fines in an attempt to balance the local budget under the banner of public safety.
A trio of D.C. Council members introduced the Safety-Based Traffic Enforcement Act of 2012 to cap fines at $50 for certain moving violations, such as exceeding the speed limit by up to 20 mph, blocking an intersection, failing to yield to a pedestrian, running a stop sign, failing to stop before turning right at a red light and turning right on red where it is prohibited.
Fines previously could exceed $100, and speeders faced tickets ranging from $75 to $150 for the various violations.
The fines do not have to be as high as they are now for the cameras to have a deterrent effect on speeding, said council member Tommy Wells, Ward 6 Democrat, who introduced the bill with Mary M. Cheh, Ward 3 Democrat, and Marion Barry, Ward 8 Democrat. He also suggested that there has been a backlash from city residents against the program, which has expanded dramatically since red-light cameras were introduced in 1999 and speed cameras were installed in 2001.
"Most people I talk to are convinced that our automated traffic enforcement cameras are just about raising revenue," Mr. Wells said from the council dais. "This must change."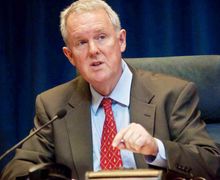 Fine reductions proposed in the bill do not apply to tickets issued by officers who pull over motorists, and the fine for running a red light still would be $150. Those who exceed speed limits at a "reckless" level of more than 20 mph still would be subject to a fine of $200, or $250 if the speed limit is exceeded by 25 mph, Mr. Wells said.
D.C. Council Chairman Phil Mendelson, a Democrat, immediately lent his support to the bill. A few minutes later, two at-large council members up for re-election next month — Vincent B. Orange, a Democrat, and Michael A. Brown, an independent — also asked to be added to the list of co-sponsors.
"I think the fines are too high, given the volume of tickets that can be issued," Mr. Mendelson said.
The bill dedicates 50 percent of revenue from the fines to improved traffic enforcement, traffic safety education and capital investments in safer roads. It also directs the mayor's office to evaluate city speed limits.
Mr. Mendelson previously has supported the re-evaluation of speed limits, citing freeways with limits as low as 40 mph, a 25 mph limit on Constitution Avenue and the outcry that once surrounded a 15 mph limit on Florida Avenue around Gallaudet University.
"There's no logic to some of the speed limits, so I think they should be looked at," he said.
The bill also calls for a 30-day warning period before motorists face fines whenever a new camera is placed along the road.
"We're trying to keep people safe, and it's not about just trying to find new ways to get into their pockets," Mr. Wells told reporters after a meeting of the Committee of the Whole.
He noted that Mayor Vincent C. Gray inserted a revenue provision in his fiscal 2013 budget that expands the use of automated traffic enforcement to speeders in tunnels, drivers who roll through stop signs and motorists who race through intersections to beat red lights. The measure, which was forecast to bring in an additional $25 million this fiscal year, was among a series of initiatives designed to ensure a balanced budget.
Gray spokesman Pedro Ribeiro said Tuesday that the mayor's office had been working on its own bill to create more nuanced fines on a graduated scale that factors in repeat offenders.