Two senior Republican senators called on the Department of Energy to explain whether the bankruptcy filing Tuesday by an electric car battery maker, A123 Systems Inc., which was awarded nearly $250 million in government stimulus grants, will result in any taxpayers losses.
Sens. Chuck Grassley of Iowa, ranking member of the Senate Judiciary Committee, and John Thune of South Dakota, a member of the Commerce, Science and Transportation Committee, pressed the Energy Department for answers in a letter Tuesday.
"The bankruptcy raises the prospect that the taxpayers will get little or no return on their investment in A123 and will lose millions of dollars," they said. "A123 has been struggling for some time. Was the company struggling when the Energy Department decided to award it a federal grant? Did the Energy Department perform enough due diligence before making this award? Were there any contingencies for this possibility?
"The administration needs to answer for this. The taxpayers shouldn't have to subsidize poor investments in failed energy companies," they said.
Mr. Grassley and Mr. Thune noted that A123 Systems has decided to sell a major part of its business to Johnson Controls Inc., a U.S. company, rather than Chinese-owned Wanxiang — a possibility they said raised national security concerns since A123 has several Defense Department contracts.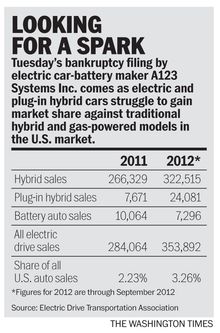 "Sen. Thune and I expressed concern about the potential sale to a Chinese company, most recently last week," Mr. Grassley said. "But the sale to an American company is small comfort, given the hundreds of millions of dollars wasted on this firm."
Mr. Thune called the A123 stimulus package "another example of President Obama gambling with taxpayer dollars and picking winners and losers in the green energy world.
"There were clear warning signs that A123 was having financial problems even as the administration continued pouring millions of taxpayer dollars into this failing company," he said. "As the stimulus-funded A123 reorganizes under Chapter 11 bankruptcy, we will continue to press the Obama administration for answers regarding the millions of taxpayer dollars given to A123, and we will continue our oversight to ensure more taxpayer dollars aren't wasted going forward."
In July 2011, Mr. Obama touted A123 Systems as a company that would create jobs with a soaring demand for its vehicle components.
"There's A123, a clean-energy manufacturer in Michigan that just hired its 1,000th worker as demand has soared for its vehicle components. Companies like these are taking root and putting people to work in every corner of the country," the president said at the time.
A123 Systems' failure adds to the list of energy companies with government-guaranteed loans who have failed, including Solyndra LLC with a half-billion dollar loan guarantee that shut its doors and laid off 1,100 workers in August 2011; and Abound Solar with a $400 million loan guarantee that filed for bankruptcy in June. Another energy company backed by an Energy Department loan, Massachusetts-based Beacon Power LLC, also has filed for bankruptcy.
Nearly half of the $2.4 billion in federal funds awarded to stimulate the U.S. economy and boost the production of hybrid and electric vehicles went to six companies with ties to places as far away as Russia, China, South Korea and France. Mr. Obama announced the grants during a visit to Indiana and said the funds would create domestic jobs and instigate more "green" manufacturing in the United States.
But because so few American companies had the necessary technology, much of the money initially went to manufacturing electric vehicle batteries overseas.
The largest single grant, for $299.2 million, went to Johnson Controls for the production of nickel-cobalt-metal battery cells and packs at plants in Holland, Mich., and Lebanon, Ore. Johnson Controls partnered with Saft Advanced Power Solutions LLC, a French company, to develop the batteries. Saft, which makes its batteries in France, also won a separate $95.5 million grant.
A123 Systems had hoped to construct manufacturing plants in Romulus and Brownstown, Mich., to build battery cells and modules, but produced its batteries in China.