What do a Navy mom, Big Bird and AARP have in common? They want President Obama and Republican Mitt Romney to leave them alone.
Both candidates are drawing on personal stories and pop-culture references in campaign ads, daily speeches and debate zingers as each tries to cast himself as an "everyman" and broaden his appeal in the presidential race's closing weeks.
But they're encountering resistance at seemingly every turn by a broad collection of people and entities they reference. This year's complaints have gone beyond the usual griping by musical groups whose songs candidates use at rallies, sometimes without permission from the artists.
Aside from causing a public stink, legal experts say there's not much anyone can do to stop candidates from invoking their stories or their names.
"Being in the midst of any presidential debate is not a place where we should be," Paul Kerger, president of PBS, which airs "Sesame Street," said in an interview. "With the enormous problems facing our country, the fact we're in this continues to be surprising to me."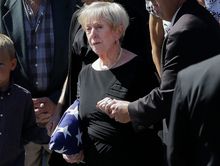 An 8-foot-tall bright-yellow bird became the unlikeliest character in the presidential race this month when Mr. Romney suggested, during the first presidential debate, cutting off federal subsidies for Big Bird. The network chastised Mr. Romney the following day for making it a political target.
But when Big Bird showed up days later in an Obama ad mocking Mr. Romney, it was the president who drew criticism. Sesame Workshop, the show's producer, called for the ad to be pulled.
Mr. Obama's ads also have caused a stir at AARP, a lobbying group for seniors, whose logo appears in commercials promoting Mr. Obama's health care law. The organization backed those reforms and has criticized Mr. Romney's Medicare proposal, but twice has made it a point to say it's not endorsing anyone in the race.
Mr. Romney, meanwhile, has drawn the ire of musical groups Twisted Sister and Silversun Pickups for using their songs to fire up crowds at campaign rallies.
Peter Berg, who developed the TV show "Friday Night Lights," bristled last week when Mr. Romney adorned his Facebook page and campaign speeches with a twist on the show's inspirational slogan: "Clear eyes, full hearts, can't lose!" As of Wednesday, Mr. Romney's Facebook page still displayed the slogan prominently.
Days earlier, Mr. Romney agreed to stop telling the story of a Christmas encounter with Glen Doherty, a former Navy SEAL killed in the attack in Benghazi, Libya, after his mother accused Mr. Romney of making her son's death part of his political agenda. Mr. Romney's aides said he was inspired by Doherty's memory but would respect the mother's wishes.
The angst extends to colleges.
For years, Virginia Tech has implored both parties to stop using its trademarked mascot in Senate, gubernatorial and presidential elections — and this year is no different. The school claims the Republican Party of Virginia has distributed "Hokies for Romney-Ryan" bumper stickers and in September wrote to both state parties reminding them that use of "Hokies" is off-limits.
Journalists, too, have recoiled at seeing themselves in campaign commercials.
A Romney spot in January, during the GOP primary season, used historical footage of former NBC anchor Tom Brokaw reporting on then-House Speaker Newt Gingrich's ethics problems. Mr. Brokaw and NBC demanded that the spot be taken down.