The traditional plastic action figure plays within mobile digital realms with help from DC Comics' famed Caped Crusader and Apple's interactive tablet in the Apptivity Batman: The Dark Knight Rises starter set (Mattel, $19.99, for players 9 years old and older).
Although twinning a toy for use with the iPad is not new (reference Spinmasters' Cars AppMATes line-up last year), taking control of this 3-inch-tall, legendary comic book hero should be irresistible for the fan and younger role player.
Begin the augmented reality adventure by snapping a display base to each figure in the starter set, including a Batarang Strike Batman and a hovering and flying version of the Batmobile called the Bat. Additionally, a cross-hairs attachment that fits all figures works to display a target onscreen for certain missions.
A player will need to download the game app, shut off the multitasking gesture setting on the iPad (a parent can help with that), and use Batman to save Catwoman and stop Bane from destroying Gotham City within a nine-mission story mode tied to the recent movie.
The figure communicates with and reacts to the iPad touch screen (and will not scratch the screen) when a player puts his fingers into the slots on either side of its base. With my large hands, I found success using my thumb and middle finger, leaving my index finger available to press an action button to launch Bat gear including the Batarang or a too-slick bat swarm.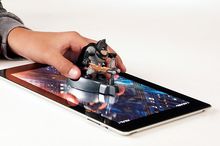 The action requires the player move the figure around the iPad screen to scour terrain; duck missiles, fists, clubs and assorted danger; or actually attack Bane and his minions. As a player swishes Batman back and forth, his fists display on the screen to swing at adversaries, a very cool effect.
It's a pretty thrilling "on rails" ride as Batman fights on and above Gotham's rooftops within beautifully designed three-dimensional locations highlighted by wisps of clouds passing by skyscrapers, the occasional sweep of bats, rusted walkways, rats scurrying across deserted streets and hints of gothic architecture.
Levels vary and are introduced with a few comic book panels. They may find Batman in the Bat shooting missiles at hovering thugs, deflecting fire from a helicopter, scaling the side of a building while avoiding bursts of flames, or punching away at hordes of henchmen.
Finish missions and the player collects points that can be used to increase powers or buy new Wayne Tech gadgets, such as spiked gauntlets, Bat Bombs, the electrifying EMP Assault device and a Riot Cannon.
A Quick Play mode also is available to hone skills with levels to fight 50 henchmen or use the Bat to blast bad guys out of the sky.
The compact figures scream "collectibility" and remind me of beefy versions of Heroclix combined with Fisher-Price's kid-friendly DC Super Friends line with a look culled from the classic Kids' WB cartoon "The Batman."
Each figure has a few points of articulation (head, waist and arms), comes in a multicolored costume (gray and black with gold bat logos), holds a utility belt item and even wears a soft cloth cape.
Mattel would be wise to offer new downloadable adventures starring other Justice League members such as Superman or Wonder Woman or maybe villains. A Joker or Catwoman certainly would appeal to the figure collector.
The company does offer other figures that work with Dark Knight adventure. Sold as single-figure packs ($9.99 each), look for Riot Cannon Batman, EMP Assault Batman and Grapnel Attack Batman.