The era of pinball offenses affirms an omnipresent need to hang half-a-hundred on a regular basis.
Yet defense still matters. Maybe it even still matters most as the national title race continues to take shape.
The latest three-day swath of college football only buttresses such a notion. No. 1 Alabama, which leads the country in so many defensive categories its No. 2 pass defense stands as an unusually stout anomaly, held Tennessee to 13 points in a rout.
Seven games in, Notre Dame has yet to surrender 20 points. Oregon State returned to its run-stuffing roots under Mike Riley to spur its 6-0 start. Oregon, not often thought of as a defensive juggernaut, was masterful Thursday against Arizona State before yielding a couple late touchdowns in a 43-21 blowout.
The best evidence was produced under the lights Saturday when Kansas State whipped West Virginia 55-14, dealing the Big 12 newbies their most lopsided home loss since a thrashing against Miami in 1986.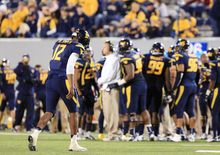 You remember West Virginia, right? It was the team with the unstoppable offense and sure-fire Heisman winner Geno Smith. The votes might as well have been cast.
Except the Mountaineers' offense is stuck in a two-week rut and its already flimsy defense was shredded once conference play arrived. The latest to eviscerate Dana Holgorsen's team was Kansas State, a program led by Bill Snyder, a living, breathing tribute to the virtues of fundamentals and smart play.
Yes, Kansas State deploys a spectacular quarterback in Collin Klein, a player whose rushing exploits were ignored a bit too much last year. While the offense alternated between solid and superb, the Wildcats' dependable defense can stuff the run (11th nationally) and reliably surrenders between 13 and 21 points to major-college opponents.
K-State has a defense, and it remains a viable national title contender likely nearly the rest of the remaining unbeaten because of it. West Virginia's big dreams are gone thanks in part to a defense that has yet to materialize against a viable offense.
Weekend Risers
Duke. One of the best stories of the season hit a new peak when Sean Renfree connected with Jamison Crowder for a touchdown in the closing seconds as the Blue Devils knocked off North Carolina 33-30. The spoils? Not just a Victory Bell painted dark blue, but bowl eligibility for the first time since 1994. David Cutcliffe warrants plenty of credit for his steady rebuilding job in Durham.
Bill O'Brien. Penn State and its first-year coach won for the fifth straight week, thrashing Iowa 38-14. The Nittany Lions had lost four straight in Iowa City and nine of their past 12 overall to the Hawkeyes (and please hold off on the vacated wins hand-wringing; those games did actually occur). There isn't a bowl in Penn State's near future, but O'Brien has the Nits at a commendable 5-2.
Toledo. At some point, coaches and athletic directors will realize scheduling the Rockets is a lousy idea. Previously unbeaten Cincinnati stumbled to a 29-23 setback at the Glass Bowl as Toledo improved to 7-1. Other teams to lose to the Rockets since 2000: Minnesota, Pittsburgh, Kansas, Iowa State and Colorado in Toledo, plus road defeats of Michigan, Penn State and Purdue.
Weekend Decliners
Southern Mississippi. There are more high-profile trainwrecks across the country, but this one might be as stunning as any. The Golden Eagles are 0-7 under first-year coach Ellis Johnson after a 59-24 loss at home to Marshall. Already assured of its first losing season since 1993, Southern Miss will match its school-record losing streak (eight, in 1976) with a loss at Rice on Saturday.