Maryland's quarterback options were whittled further Thursday when the school announced sophomore Devin Burns suffered a Lisfranc injury in his left foot, leaving true freshman Caleb Rowe as the only remaining scholarship option.
It's nothing new for the Terrapins, who are virtual pros at moving forward from quarterback ailments. When Rowe starts Saturday at Boston College, it will mark the sixth straight year Maryland needed multiple starting quarterbacks in a season.
Perry Hills, who tore the anterior cruciate ligament in his left knee, was Maryland's starter for the first seven games. The last Terp to start every game at quarterback was Sam Hollenbach in 2006, with injuries costing Maryland's opening-week starter at least one game every year since then.
"Once is an accident, twice is a trend, three times " defensive lineman A.J. Francis said earlier this week before trailing off. "It's kind of unbelievable."
Unless you're Navy, that is. The Midshipmen are one of only five major-college programs with a longer drought of wire-to-wire quarterbacks than Maryland. Lamar Owens' turn as the lone starter in 2005 was the last time Navy avoided injury and ineffectiveness enough to squeak through a year without turning to its backup.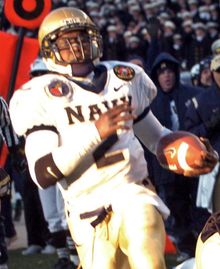 "You learn to cope with it and you learn to expect it, really, especially with our offense," said Navy offensive coordinator Ivin Jasper, who presides over the Mids' triple-option scheme. "It's basically another running back back there."
If nothing else, both programs are well-versed in handling such situations. Navy (4-3), which visits East Carolina on Saturday, is playing especially crisp under freshman Keenan Reynolds. The Mids opened the year with junior Trey Miller, who struggled with turnovers before turning in a solid performance at Air Force marred by a left ankle injury that forced him from the game.
Reynolds entered and rallied Navy to a victory over its service academy rival, then led the Mids to victories over Central Michigan and Indiana.
Maryland can only hope for such a stirring performance from Rowe, who played the first four snaps of his college career in Saturday's 20-18 loss to N.C. State. It was in that game that Hills was injured. He was relieved by Burns, who appeared to injure his left foot while unsuccessfully eluding a sack with about seven minutes to play.
Toss in junior C.J. Brown's preseason ACL tear, and Maryland (4-3, 2-1 ACC) has dealt with even greater quarterback tumult than usual, even by its standards.
"You go through these things so you know how to handle them," said coach Randy Edsall, who endured injury epidemics a few times during a 12-year stint at Connecticut. "You've experienced it before so it's not foreign territory to you. You have a background on how you have to do it and how you have to handle the players and how you have to get ready to go compete. That's what we're going to do."
Planning for trouble
Navy was blessed with durable quarterbacks in the early years of its current triple-option era.
Owens. Aaron Polanco. Craig Candeto.
"It's been hit or miss ever since," Jasper said. "We've always prided ourselves on having two quarterbacks. It's always been a must for us. It's always been part of our philosophy. We rep two guys. There's two huddles in practice, every single drill. The backup and starter gets the same amount of reps."