DETROIT — Smart pitching. Clutch hitting. Sharp fielding. Plus an MVP Panda.
All the right elements for a sweet World Series sweep for the San Francisco Giants.
Nearly knocked out in the playoffs time and time again, and finally pressed by the Detroit Tigers in Game 4, Pablo Sandoval and the Giants clinched their second title in three seasons Sunday night.
Marco Scutaro — who else? — delivered one more key hit this October, a go-ahead single with two outs in the 10th inning that lifted the Giants to a 4-3 win.
"Detroit probably didn't know what it was in for," Giants general manager Brian Sabean said. "Our guys had a date with destiny."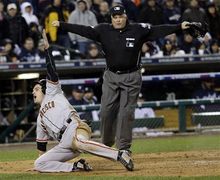 On a night of biting cold, stiff breezes and some rain, the Giants combined the most important elements of championship baseball. After three straight wins that looked relatively easy, they sealed this victory when Sergio Romo got Triple Crown winner Miguel Cabrera to look at strike three for the final out.
"Tonight was a battle," Giants star Buster Posey said. "And I think tonight was a fitting way for us to end it because those guys played hard. They didn't stop, and it's an unbelievable feeling."
Posey, the only player who was in the starting lineup when San Francisco beat Texas in the 2010 clincher, and the underdog Giants celebrated in the center of the diamond at Comerica Park.
They built toward this party all month, winning six elimination games this postseason. In the clubhouse, they hoisted the trophy, passed it around and shouted the name of each player who held it.
"World Series champions," Giants outfielder Hunter Pence hollered.
Benched during the 2010 Series, Sandoval, nicknamed Kung Fu Panda, went 8 for 16, including a three-homer performance in Game 1.
"You learn," Sandoval said. "You learn from everything that happened in your career. … We're working hard to enjoy this moment right now."
Cabrera delivered the first big hit for Detroit, interrupting San Francisco's run of dominant pitching with a two-run homer that blew over the right-field wall in the third.
Posey put the Giants ahead 3-2 with a two-run homer in the sixth and Delmon Young hit a tying home run in the bottom half.
It then became a matchup of bullpens, and the Giants prevailed.