Katy Perry, Quincy Jones, Alicia Keys and Vince Gill are on the same bill: The singers are performing at an event to benefit the late Paul Newman's Painted Turtle Camp.
The Dec. 4 gathering at the Dolby Theatre in Los Angeles is being billed as "You've Got a Friend … A Celebration of Carole King and Her Music." Miss King will perform alongside John Legend, Amy Grant, Herb Alpert and Lani Hall.
Newman's Painted Turtle is a camp in Lake Hughes, Calif., in the SeriousFun Children's Network, which the actor founded to assist children with serious illnesses as well as their families.
Tickets for the event go on sale Monday. A VIP party will follow at the Ray Dolby Ballroom.
Newman died in 2008.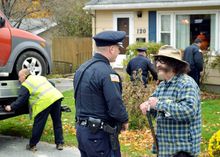 Carly Rae Jepsen named Billboard's Rising Star
Carly Rae Jepsen has had a breakout year, and now she's being rewarded by Billboard, which has named her its Rising Star of 2012.
The "Call Me Maybe" singer will be honored at Billboard's annual Women in Music event, to be held in New York City on Nov. 30, The Associated Press reports. She'll join Katy Perry, who has been named Woman of the Year.
In a statement Thursday, Miss Jepsen said she was influenced by many female artists and hopes to inspire budding musicians the way her heroes inspired her. Miss Jepsen said she is truly honored by the award.
Previous recipients include Nicki Minaj and Lady Gaga.
Schwarzenegger to return in new Conan film
Arnold Schwarzenegger is coming back — as Conan the Barbarian.
Universal Pictures said California's former governor will star in "The Legend of Conan," an action film being developed for the actor. Deadline Hollywood was the first to report the news Friday.
The 65-year-old Mr. Schwarzenegger starred in two previous films about the mythic hero: 1982's "Conan the Barbarian" and 1984's "Conan the Destroyer."
Mr. Schwarzenegger told Deadline he loves the character and is "honored" to play him again.