For Bradley Beal, celebrating his 19th birthday didn't include a gathering of childhood friends and family in his hometown of St. Louis. Nor did it involve a group of college friends hanging out on campus at the University of Florida.
Instead, it took place on national television inside a packed house at Prudential Center in Newark, N.J., where the best present wasn't something he had to unwrap — it was simply hearing his name called.
"I was nervous at first, honestly," Beal said. "I've never been that nervous in my life. To actually hear my name called was a great feeling, because I knew in the end this was the place I wanted to be. It was a dream come true."
With the third pick in the 2012 NBA draft, held June 28, the Washington Wizards selected Bradley Beal. It was no surprise. From the moment Beal arrived at Verizon Center for his predraft workout, he and the organization were taken with each other. Beal was impressed by the friendly and straightforward way he was treated. The Wizards were impressed with his talent and maturity.
As Beal begins his rookie season for a team desperate to shake its "losers in the lottery" label, there's pressure on him to help turn things around. To hear Beal talk, you'd never know it.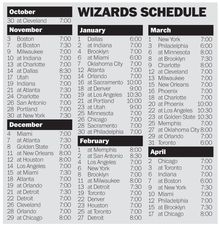 Becoming the 'Real Deal'
Bradley Beal grew up in St. Louis the middle son of five boys, all of whom played football. During a high school game in which his oldest brother Brandon emerged as the star, a local newspaper called him "Real Deal Beal".
"When I saw it, I thought 'That's pretty catchy"', Beal said. "But [Brandon] didn't use it, so I thought 'I'm just going to steal it.' Then the paper wrote it about me, so I just kept it."
As it turns out, it didn't take long for the rest of his family to see that as a basketball player, the nickname just might suit Bradley best of all.
"When he was in the sixth grade, we went to an AAU game, and [Bradley] was playing," recalled Bruce Beal, Bradley's second-oldest brother. "In the first half, he hit eight 3s back-to-back-to-back. I told my mom, 'He's going pro.'"
Bruce Beal joked that his mother looked at him like he was crazy, and said that Bradley was young and still had a lot to work on. Bruce Beal looked right back at his mother.
"Mom," Bruce repeated, "he's going pro."
Taking her son's words to heart, Besta Beal encouraged Bradley to give up football, for fear he'd get hurt, and encouraged him to concentrate on basketball. During his sophomore year, the college recruiting letters began to arrive. Beal chose Florida.
During his freshman year under coach Billy Donovan, Beal emerged as one of the top shooting guards in the country, averaging 14.8 points, 2.2 assists and 6.7 rebounds. He was chosen SEC Freshman of the Week five times, and named to the SEC All-Freshman team and first-team All-SEC.
When Beal decided to turn pro, Donovan said he was disappointed that he'd no longer get to coach Beal but thought the guard was NBA-ready.