Acclaimed Spanish chef Jose Andres is heading back to the classroom.
Mr. Andres, who has popularized tapas — small plates — at his Washington-area eateries, including Jaleo and Oyamel, will teach his first course at George Washington University next year. The school was to announce Monday that Mr. Andres would teach a course on how food shapes civilization.
The weekly class is open to 230 students. Topics will include the politics and history of food, hunger and obesity, and food's relationship with national security.
Mr. Andres said eating is one thing everyone has in common. He says food connects with science, art, energy, economics, health, diplomacy and other parts of society.
The chef has taught at Harvard and has said he wants to create a research center on food policy that could level the playing field with agribusiness lobbyists.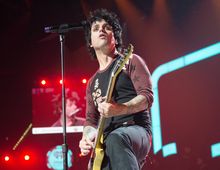 Green Day cancels shows through early 2013
Green Day is canceling the rest of its 2012 club schedule and is postponing the start of the 2013 arena tour.
Bass player Mike Dirnt said Billie Joe Armstrong's "well-being is our main concern" in the band's decision to clear the schedule through Feb 8.
Mr. Dirnt said in a statement Monday that Mr. Armstrong is doing well in his attempt to shake substance-abuse problems that emerged publicly in September, when the singer-guitarist had a profane meltdown on the stage of the iHeartRadio Music Festival in Las Vegas.
The Grammy-winning punks also moved up the release date of "Tre," the third installment in a trilogy of albums released over a period of months. The album will be released Dec. 11, more than a month ahead of schedule.
Madonna's Obama plug draws boos in New Orleans
Madonna drew boos and triggered a walkout by several concertgoers after she touted President Obama on her MDNA Tour in New Orleans.
The Material Girl asked during Saturday night's performance: "Who's registered to vote?" She added: "I don't care who you vote for as long as you vote for Obama." Drawing boos in touting Mr. Obama over Republican Mitt Romney, Madonna followed: "Seriously, I don't care who you vote for. Do not take this privilege for granted. Go vote."
Madonna is often outspoken. Some Colorado fans, mindful of a mass shooting there in July, complained after she used a fake gun to shoot a masked gunman in a recent concert in Denver.
A Madonna concert in Paris in July drew ire when a video showed a swastika on a politician's forehead.