Taylor Swift will co-host the Grammy nominations television special.
Grammy officials said the pop star will join LL Cool J as host of the Dec. 5 special, airing live on CBS from Bridgestone Arena in Nashville, Tenn. This will be the first year the nominations special has been broadcast from Music City.
Grammy officials also announced Monday that rising country star Luke Bryan has been added to the telecast as a performer, joining Maroon 5 as the only acts announced so far. Miss Swift has won six Grammys. She released her latest album, "Red," last week.
The 55th annual Grammy Awards show will be held Feb. 10 in Los Angeles.
Kenny Chesney to perform at Redskins-Cowboys halftime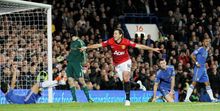 Country star Kenny Chesney will perform at halftime when the Cowboys host the Redskins on Thanksgiving Day to kick off the Salvation Army's Red Kettle Campaign.
Mr. Chesney was on hand Sunday for the announcement at Cowboys Stadium as the New York Giants beat Dallas 29-24.
The Nov. 22 show will be part of the Salvation Army's 122nd annual holiday giving effort that features red kettles for donations. Last year, the Salvation Army received nearly $148 million during the period.
'New Girl' an improv haven for slate of guest stars
To all actors craving to pacify their improv comedy roots: Nab a guest arc on Fox's "New Girl." With only five episodes aired, the second season already has entertained Parker Posey, Josh Gad, Charlie Saxton and David Walton, and is set to feature Carla Gugino and Olivia Munn.
The cast also will gather around the Thanksgiving dinner table with Rob Reiner and Jamie Lee Curtis, who will play Zooey Deschanel's on-screen divorced parents.
Series executive producer Jake Kasdan first mentioned Mr. Reiner as a prospect for the paternal role.
"It was immediately, like, that was the best idea, and when he said yes, it was so exciting," showrunner Elizabeth Meriwether told The Hollywood Reporter at the New York Television Festival's "A Salute to Fox Comedy" panel on Friday night. "Having him on set for the week — I was trying to play it cool, but every time I was around him, I was shaking a little bit. The things that he's done are so unbelievable. One of those moments where I know I'm gonna be thinking back to this, years from now."
Though admiration flowed plentifully behind the scenes for the guest stars, watch out for Cece's (Hannah Simone) hotheaded moment for Mr. Reiner's counterpart in the episode.
"I got to yell at Jamie Lee Curtis — incredible," Miss Simone told The Hollywood Reporter. "I was a huge fan of hers growing up. She was just that strong, sexy, confident women that could really do physical comedy, and she wasn't afraid of it. It was incredible to have her on set and to work with her."