Head Coach …
Randy Wittman (second season, 18-31 with Washington; seventh season overall, 118-238)
Players …
Trevor Ariza, F
Ht/Wt: 6-8, 220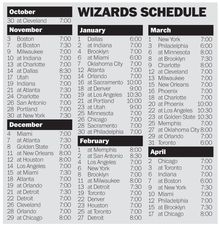 Last Year: 10.8 ppg, 5.2 rpg
Ariza is a good perimeter defender but just an average shooter. He's been inconsistent during the preseason and is struggling a bit to fit into the lineup. Still, he is the probable starter at small forward.
Earl Barron, C
Ht/Wt: 7-0, 250
Last Year: 2.0 ppg, 0.5 rpg
Barron likely earned his roster spot in the team's final preseason game against San Antonio. He started and totaled 12 points and 10 rebounds playing well against Tim Duncan. The injury-plagued front line makes Barron a good fill in at the five. The 31-year-old journeyman has played for seven teams, including Washington.
Bradley Beal, G
Ht/Wt: 6-5, 207
Last year: Rookie
Beal has already shown maturity well beyond his age, 19, during the preseason, and pretty good consistency, although he struggled in the two final preseason games. Beal is a talented shooter and a good ball handler and he and John Wall both like to get out and run in the open court. They should complement each other well. The question is how soon Beal cracks the starting lineup for good.