OWINGS MILLS, Md. — The Baltimore Ravens have become a case study for the First Amendment over the past month.
With an election approaching, two teammates have entered the public arena stating opinions on how to define marriage in the political scene. This topic tends to draw passionate responses from both sides of the aisle.
But center Matt Birk and linebacker Brendon Ayanbadejo have remained civil with each other despite disagreeing.
Birk penned a column for the Minneapolis Star Tribune, which was published Sunday, in favor of keeping marriage defined as between a man and a woman.
"Same-sex unions may not affect my marriage specifically, but it will affect my children — the next generation," Birk wrote. "Ideas have consequences, and laws shape culture. Marriage redefinition will affect the broader well-being of children and the welfare of society. As a Christian and a citizen, I am compelled to care about both."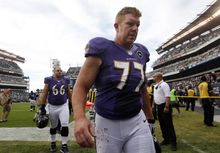 Minnesota is voting to add an amendment to the state constitution that would ban same-sex marriage. Birk, a native Minnesotan who played with the NFL's Minnesota Vikings from 1998-2008, said it was time to take a stance on the issue.
"It's not my aim or my goal to engage in any debates with one person or persons," Birk said. "Obviously, we all have opinions. They have their opinions, and it just so happens we disagree on what marriage is in the public forum. Certainly, it's very inflammatory and a hot topic because it's important, and I understand that."
Ayanbadejo has taken the other side, voicing his support for gay marriage. Next month, Maryland will vote on legalizing gay marriage, which was petitioned for referendum after the state legislature passed the bill earlier this year. Birk will be recording a video for the Maryland Marriage Alliance to aid with the organization's campaign to vote down the referendum.
Ayanbadejo said his worldview was shaped by growing up with gay friends and relatives in California. He's affiliated himself with Marylanders for Marriage Equality to push for passage of the bill. Ayanbadejo became vocal as a proponent for same-sex marriage in 2008, during President Obama's first campaign. As a result, Ayanbadejo felt an initial backlash within the NFL community.
"It was really a subject that no one wanted to touch, athletes weren't really touching it," Ayanbadejo said. "If I heard something, it was never head-on. It was always in the periphery. I'd hear snickering or comments but never had a single conversation with anyone other than [Ravens] coach [John] Harbaugh about it."
Harbaugh has since taken a neutral stance, though one that shows there's room for individual beliefs on an NFL team.
"I don't discourage [discussion] or encourage it," Harbaugh said. "As long as everybody respects everybody else's opinion, that's the main thing. We talk about politics, religion, all those kind of things — movies, music. It's OK to have an opinion, and it's really important to respect everybody else's opinion."
Ayanbadejo isn't the only NFL player in favor of legalizing gay marriage. Houston Texans outside linebacker Connor Barwin, who has an older brother who is gay, Cleveland Browns linebacker Scott Fujita and Vikings punter Chris Kluwe have been vocal proponents for gay rights.
Men's sports are still seen as an area where homosexuality remains taboo inside the locker rooms. Some former NFL players have come out publicly following retirement, including Wade Davis and Esera Tuaolo.
Former Pittsburgh Pirates owner Kevin McClatchy revealed in late September that he is gay. Rick Welts, the president of the NBA's Golden State Warriors, came out while serving in a similar position with the Phoenix Suns in 2011.