Schools, government offices and transportation systems in the D.C. metro area are set to resume full operations on Wednesday after Hurricane Sandy ravaged parts of the East Coast but did less damage than expected to the District and its suburbs.
The storm forced two days of federal and local government closures, public transportation shutdowns, canceled flights and the shuttering of businesses and schools while leaving more than 120,000 Maryland, Virginia and District residents without power.
Even as some residents woke to blackouts and property damage, local officials said they expected the region to recover quickly and that things could have gone much worse.
"We were all very fortunate to be on the kinder end of this very violent storm," said Maryland Gov. Martin O'Malley, a Democrat. "We prepared for the worst, and we were spared from having to endure the worst."
The storm also caused at least four deaths in the region.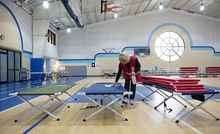 Most everything should open as usual on Wednesday. Metro trains and buses started running Tuesday afternoon and will resume their normal schedule Wednesday morning. Also on Tuesday, flights started to arrive and take off at the region's three airports.
Hurricane Sandy pelted the D.C. region with heavy rains and high winds on Monday. Its remnants brought rain and temperatures in the 40s much of Tuesday.
Local weather is expected to improve some in coming days, with forecasts pointing to moderate winds and possible intermittent showers.
Emergency crews and power companies say the elements are unlikely to get in their way as they work to clear fallen trees and downed power lines and to restore electricity to the fewer than 75,000 area residents who remained without power Tuesday afternoon.
Pepco, the primary energy provider to the District and its Maryland suburbs, said it expects to restore power fully to its customers by Wednesday night.
Dominion Virginia Power said it expects to repair its remaining outages by Thursday night.
Many residents who lost power also ran into problems such as standing floodwater and fallen trees on Tuesday morning.
Two residents of Alexandria's Beverley Hills neighborhood, Kevin Roach and Lynn Pascoe, were trying to find a silver lining as they examined an enormous oak tree stretching across the street.
"If it came down, it came down in the best way possible," Mr. Pascoe said.
The giant oak tree in his front yard tipped over during the storm, but its forked trunk made it miss another tree in front of it. In fact, the tree hit only a power line, but no homes or cars on its way down.