ELIZABETH CITY, N.C. (AP) — The Coast Guard used ships and airplanes to search the Atlantic Ocean on Tuesday for the captain of the HMS Bounty, which went down during Hurricane Sandy.
The Coast Guard was optimistic that Robin Walbridge, 63, of St. Petersburg, Fla., could still be alive in his blazing-red survival suit 90 miles off the North Carolina coast. Mr. Walbridge went overboard early Monday when the replica 18th-century sailing vessel, made famous in Hollywood adventure films, rolled over in 18-foot waves.
The searched was hampered by 15-feet waves, but the water temperature was about 77 degrees.
"There's a lot of factors that go into survivability. Right now we're going to continue to search. Right now we're hopeful," Coast Guard Capt. Joe Kelly said.
The Coast Guard rescued 14 crew members of the Bounty by helicopter Monday. Hours later, they found Claudene Christian, 42, unresponsive. She was later declared dead. The rest of the crew was in good condition.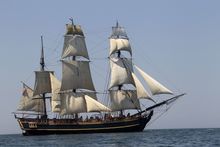 The search through the night for the captain encompassed 1,300 square miles, aided by a Miami-based plane with night-vision capability, he said. A decision on how much longer to search will come later Tuesday, Capt. Kelly said.
When the Bounty set sail last week, Mr. Walbridge believed he could navigate the ship around the storm. After two days in rough seas, he realized his journey would be far more difficult.
"I think we are going to be into this for several days," Mr. Walbridge said in a message posted Sunday on the vessel's Facebook site, which reads like a ship's log of her activities. "We are just going to keep trying to go fast."
By Monday morning, the vessel had started taking on water, its engines failed, and the crew of the stately craft had to abandon ship as it went down in the immense waves.
By the time the first rescue helicopter arrived, all that was visible of the ship was a strobe light atop the mighty vessel's submerged masts. The roiling Atlantic Ocean had claimed the rest.
The final hours of the HMS Bounty, as it was officially named, were as dramatic as the movies she starred in.
The ship was originally built for the 1962 film "Mutiny on the Bounty," starring Marlon Brando, and it was featured in several other films over the years, including one of the "Pirates of the Caribbean" movies.
Rochelle Smith, 44, met Ms. Christian this summer when they sailed the HMS Bounty in Nova Scotia.
"She loved the Bounty. She absolutely loved it. She was so happy to be on it and doing something that she found that she loved to do," said Ms. Smith, a medical transcriptionist who lives in Thunder Bay, Ontario.
The vessel left Connecticut on Thursday with a crew of 11 men and five women, ranging in age from 20 to 66. Everyone aboard knew the journey could be treacherous.