KABUL, Afghanistan — Afghan armySgt. Habibullah Hayar didn't know it, but he had been sleeping next to his enemy for weeks.
Twenty-four days ago, one of his roommates was arrested, suspected of plotting an insider attack against their unit, which is partnered with NATO forces in eastern Paktia province.
Afghan soldiers and policemen — or militants in their uniforms — have shot more than 50 foreign troops so far this year, eroding the trust between coalition forces and their Afghan partners.
An equal number of Afghan policemen and soldiers also died in these attacks, giving them reason as well to be suspicious of possible infiltrators within their ranks.
"It's not only foreigners. They are targeting Afghan security forces, too," said Sgt. Hayar, 21, who was in Kabul on leave. "Sometimes, I think what kind of situation is this that a Muslim cannot trust a Muslim — even a brother cannot trust a brother. It's so confused. Nobody knows what's going on."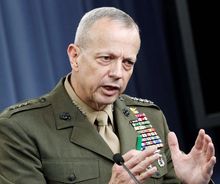 The U.S.-led coalition said a NATO service member and an international civilian contractor were killed Saturday in the latest such insider attack.
The coalition said Sunday in a statement that Afghan soldiers also were killed or wounded, but provided no other details about the attack in eastern Afghanistan.
Insider attacks are taking a toll on the partnership, prompting the U.S. military to restrict operations with small Afghan units late last month.
The close contact — with coalition forces working side-by-side with Afghan troops as advisers, mentors and trainers — is a key part of the U.S. strategy for putting the Afghans in the lead as the U.S. and other nations prepare to pull out their last combat troops at the end of 2014, just 27 months away.
The U.S. military also has shown increasing anger over the attacks.
"I'm mad as hell about them, to be honest with you," Gen. John Allen, the top commander of U.S. and NATO forces in Afghanistan, told CBS' "60 Minutes" in an interview Sunday. "It reverberates everywhere across the United States. You know, we're willing to sacrifice a lot for this campaign, but we're not willing to be murdered for it."
So far this year, at least 52 foreign troops — about half of them Americans — have been killed in insider attacks.
The Afghan government has not provided statistics on the number of its forces killed in insider attacks.
But U.S. military statistics obtained by the Associated Press show at least 53 members of the Afghan security forces had been killed as of the end of August. A U.S. military official disclosed the numbers on the condition of anonymity because, he said, it was up to Afghan officials to formally release the figures.
An Afghan defense official who was shown the statistics said he had no reason to doubt their accuracy.