Ryan Zimmerman draped his arms over the railing of the dugout. He looked to his left, and then to his right, at the frenzied fans dancing in the aisles at Nationals Park. Behind him, his teammates continued dispensing the hugs and high-fives that began with fervor seconds earlier.
He let the pandemonium wash over him. He let the words displayed on the center field scoreboard sink in.
The Washington Nationals — his Washington Nationals from the very moment he was drafted — were the National League East champions.
"The odds were in my favor that I was going to win at some point here, right?" Zimmerman said later, soaked from head to toe in celebratory beer and champagne.
Three seasons ago, Zimmerman's team lost 103 games. The year before that, it lost 102. The Nationals were not just doormats but often laughingstocks, with Zimmerman as the light they hoped would someday guide them out of those dark days.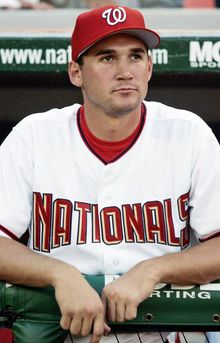 Before the 2012 season began, Zimmerman had witnessed 573 of the Nationals' 640 losses. He spent his formative years in the major leagues around plenty of players who saw winning as a lower priority than filling their coffers and were beaten down by years of mediocrity or worse.
And yet there he was Monday, the man those closest to him say is largely unchanged from the day he reached the majors in September 2005 as a baby-faced 20-year-old, enjoying the moment he'd only seen in his vague visions of the future.
"It was, without question, the most satisfied and content he's ever been in my time knowing him," said Brodie Van Wagenen, Zimmerman's agent and co-head of CAA baseball.
His even-keeled demeanor finally gave way to pure joy. He'd never let the losing beat him. He'd never let himself fall victim to those around him with lower aspirations.
"A few years ago, I even heard a few guys say the only times they're happy are on the first and 15th of every month," said left-hander Ross Detwiler, who made his major league debut with the Nationals in 2007. "I'm going out there and trying my hardest, and you've got a guy who doesn't care about anything but a paycheck? Those people obviously broke.
"I'm glad Zim never got to that point."
Never too high, never too low
When the Nationals' regular season ended Wednesday, Zimmerman appeared in his 990th major league game.
As a member of a team awaiting its Division Series opponent, he will fall just shy of reaching 1,000 games without a playoff appearance.
Former National Adam Dunn is the active leader in that department at 1,721 games.