ISTANBUL — Turkey's prime minister insisted Thursday that his country does not want to go to war with Syria, after the Turkish parliament authorized military action against Syria's regime and Turkish forces lobbed mortars into Syria for the second consecutive day.
Prime Minister Recep Tayyip Erdogan said Turkey is determined to protect its borders and its citizens, five of whom were killed Wednesday in a Syrian mortar attack on a Turkish village. He noted that Syrian mortars hit Turkish areas seven other times during the 18-month-old civil war between Syrian rebels and President Bashar Assad's regime.
"We want peace and security and nothing else. We would never want to start a war," Mr. Erdogan said during a news conference in Akcakale, where five civilians were killed in Wednesday's mortar attack. "Turkey is a country which is capable of protecting its people and borders. No one should attempt to test our determination on the issue."
Parliament's action authorizes unilateral military operations against future Syrian provocations, without drawing Western or Arab allies into the conflict. Turkey is a member of NATO.
The authorization also covers strikes against Kurdish militants from the banned Kurdistan Workers' Party in northern Iraq.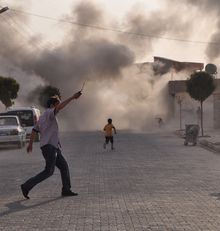 Turkish Deputy Prime Minister Besir Atalay said Thursday that Syria has admitted it is responsible for the shelling of Akcakale and apologized for the deaths, adding that the Assad regime has reassured the United Nations that "such an incident will not occur again."
U.N. Secretary-General Ban Ki-moon expressed alarm Thursday over the growing tension on the 500-mile Turkish-Syrian border.
"As the situation inside Syria deteriorates yet further — including the atrocious terrorist bombings in Aleppo this week, which killed dozens of people including civilians — the risks of regional conflict and the threat to international peace and security are also increasing," U.N. spokesman Martin Nesirky said.
Lakhdar Brahimi, the special representative of the U.N. and the Arab League on Syria, is in touch with Syrian and Turkish officials in an attempt to calm tensions, officials said.
No appetite for war
Mr. Erdogan has been outspoken in criticizing Mr. Assad. He has demanded that the embattled dictator step down and called for a united international response to the conflict.
In addition, Turkey has absorbed more than 90,000 Syrians who have fled the growing violence in their country.
Regional analysts downplayed concerns that a spillover of violence in Syria's civil war would pull Turkey into the fray.
"Turkey has no desire to get involved militarily in Syria," said David Hartwell, a Middle East analyst at IHS, a global intelligence firm in London.
The shelling Wednesday was the latest Syrian military action that involved Turkey. In June, Syrian forces shot down a Turkish military jet, killing two pilots. Turkey responded by reinforcing its border with anti-aircraft missiles and vowing to attack Syrian forces approaching its airspace.