ST. LOUIS — A few hours before he'd start the first major league playoff game of his life, Ian Desmond leaned on the dugout railing and pondered the question of how much experience mattered in the postseason. The Washington Nationals, of course, have very little. And the reigning 2011 World Series champion St. Louis Cardinals are rich with it.
Desmond recalled a quote he had seen recently that seemed apt. "The ark," he said, "was built by an amateur. The Titanic was built by a professional."
In the Nationals' 3-2 victory over the Cardinals on Sunday, they didn't need playoff experience to do what they did. They didn't need to reach into their own annals of postseason history to overcome a wild starting pitcher and missed opportunities aplenty in a taut first game of the National League Division Series.
They relied on three hits from their unfazed shortstop, a clutch two-run single by a rookie bench player and a right-handed reliever with zero games of playoff experience getting out of a bases-loaded jam with two pitches.
In a playoff game Washington waited 79 years for, the Nationals may have proved the "experience" factor entirely moot, if not driven their fan base into an ulcer-inducing tizzy.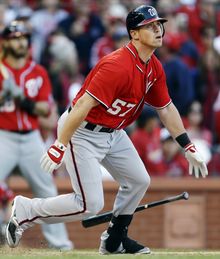 "Now we have the postseason experience I guess," right-hander Craig Stammen said. "Got it all in one game."
There were 47,078 white-towel-waving Cardinals fans screaming their heads off at a sun-splashed Busch Stadium in the eighth inning. All of them were trying to will rookie pinch hitter Tyler Moore into making an out. All of them wanting him to follow the tradition his teammates had set throughout the day, leaving 10 runners on base and often coming up small in large situations.
"Oh, God," said Chad Tracy, the left-handed pinch-hitter who was pulled back for Moore to hit. "It's the biggest moment of his baseball life."
"I felt like all day that we were going to score some runs eventually," said right fielder Jayson Werth, who twice made inning-ending outs with the bases loaded but also robbed what would have been a two-run homer. "We had a lot of chances. Man, we had some chances. I had some chances," Werth said.
It was a moment Moore was prepared for. He had sat with veteran utilitymen Mark DeRosa and Tracy dissecting the various situations. He went through video of the Cardinals' only left-hander, Mark Rzepczynski. He knew that if they brought him in to face Tracy, there was a good chance he would be summoned.
"T-Mo's a pro," DeRosa said. "To know this guy is to know he's going to have a big career. He wants the moment. He's confident. He's got ice water in his veins. I don't think the stage can be too big for him."
"There's one thing we're all sure about is he can hit," third baseman Ryan Zimmerman said.
He watched a ball go by, then fouled off a sinker. He repeated that process on the next two pitches. Then Rzepczynski threw a 93 mph fastball and Moore lofted it into right field. It fell in front of a charging Carlos Beltran. As Michael Morse, who had reached on an error to begin the inning, and Desmond scored to turn a 2-1 deficit into a 3-2 Nationals lead, Moore stood on second base and pumped his fist.
Blissfully undeterred by the pressure, Moore erased all the Nationals' sins from the day with one swing. Their starting pitcher who struggled to find the strike zone and walked seven batters in five innings, their 0 for 9 with runners in scoring position to that point. Whatever nerves they had had were gone.
"It was overwhelming, man," Moore said. "I got chills right there. It was great, because 50,000 fans [are going crazy], and then you couldn't hear anything. Then all of a sudden I see my teammates jumping up and down and can't control themselves."