ANALYSIS/OPINION:
In-season kicker tryouts have become so common for the Washington Redskins that they should be written into the schedule — like bye week. This year's tryouts will be held Tuesday, thanks to Billy Cundiff's second chip-shot miss in as many games, a 31-yarder that veered to the right against the Atlanta Falcons. Naturally, the team hopes they're this year's only tryouts, but you can never be entirely sure.
The Redskins lost to the Falcons, 24-17, and they might have lost even if Cundiff had booted it through late in the first half to increase the Washington lead to 10-0. They did, after all, come unraveled in the fourth quarter, after Robert Griffin III was knocked out of action and the defense, on the field for 81 plays, wore down. As Lorenzo Alexander put it, "In the fourth quarter you win games, and that's when we fade away."
But in a league of one-possession games — and the Redskins are 5 for 5 in that department this season — shaky kicking is eventually going to catch up with you. So Mike Shanahan has decided to act sooner rather than later, even though Cundiff has been here only six weeks and was supposed to be an upgrade over his block-prone successor, Graham Gano.
Fortunately for the Redskins, they haven't been very good the past couple of decades. If they had, their continual kicking problems probably would have been even more painful, costing them playoff berths and/or Super Bowls. Still, outside of their quarterback carousel, their chorus line of kickers has been one of their most glaring issues. How glaring? Well, this is Dan Snyder's 14th season as owner, and Cundiff is his 14th kicker.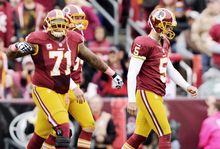 There have been so many, it's hard to remember them all. One season, Marty Ball 2002, there were five (Brett Conway, Michael Husted, Kris Heppner, Eddie Murray and Scott Bentley). Things have calmed down a little since, but the turnstile hasn't stopped spinning. And for all their searching, the Redskins haven't come across a single kicker who's made you think: Now that guy's a keeper. If they can just hang onto him for a while
Other clubs find kickers like that, but not the Redskins. The Redskins have had to get by with a successions of temps - kickers who had their best years elsewhere (e.g. Eddie Murray), kickers who would go on to have their best years elsewhere (e.g. David Akers, who passed through D.C. in 1998), kickers who were OK for a while but then broke down physically (e.g. John Hall, Brett Conway), even had kickers who had no business being NFL kickers (e.g. James Tuthill).
Cundiff was the latest to fit one of these descriptions. He had a really nice season with Baltimore in 2010 (26 field goals, 89.7 percent success rate), several other average years there and in Dallas, but was cut by the Ravens this summer after shanking a 32-yard try that would have sent last season's AFC title game into overtime. In his last six games, in other words, he's missed from 32, 31 and 31. You can't do that in an era of 80-percent kickers, no matter how many times you boom the kickoff through the end zone (which he did with regularity).
So once more Tuesday, the Redskins will hold auditions. The three contestants in this week's episode of "America's Got Kickers" will be Olindo Mare, Josh Brown and Kai Forbath, according to Jason La Canfora at CBSSports.com — two retreads and a kid (Forbath) looking for his first chance. Such are your alternatives when you have to scramble for a kicker after the season starts. If any of them has a decent day, Cundiff will undoubtedly be gone, and Redskins fans will have somebody else to agonize over.
After Sunday's game, Billy talked about the need to block out all the negativity — the boos, especially — that was landing on him like a 350-pound nose tackle. "Any time you don't connect, you get frustrated," he said, "but it's not my job to really worry about all the extra things." You could sense, though, just from looking at him, that he knew the end was near, knew his coach likely would be saying the next day, "We're going to work out a few people [Tuesday]." You could sense it because you've seen it so many times before, from so many other embattled Redskins kickers.
It's a lonely place Cundiff is in. The Ravens lost faith in him, the Redskins are teetering, and by this time next week he might be trying to scare up tryouts of his own.
But it shouldn't be a particularly pleasant time for the Redskins, either. Once again, it appears, they've swung and missed on a kicker.
When it comes to kickers, they're Adam Dunn.